Fixing Our Climate: The Bangladesh Perspective
10 March 2023

Open to students, staff and the wider community, this Durham Global Week event focused on learning about Bangladesh's emergence as a global leader in international negotiations relating to climate change.
Taking place on Wednesday 8 March, Fixing Our Climate: The Bangladesh Perspective began with the opportunity for guests to network and sample some traditional Bangladeshi food while experiencing an instrumental cover of authentic Bengali music and watching a video presentation on the country's geography and climate challenges before joining a panel discussion considering the following questions:
Will Bangladesh continue to lead and be a beacon for emerging economies?
Is the fast economic growth of Bangladesh consistent with its sustainability agenda?
Who will gain and lose from this transition?
What is the role of international cooperation for Bangladesh's journey towards net zero?
The event was organised by the Business School's Natalie McNeil (International, Engagement & Careers team); together with Dr Laura Marsiliani and Dr Habib Rahman, whose research work in Bangladesh allowed an expert panel to be assembled. Professor Kieran Fernandes, Associate Pro-Vice Chancellor for Development and Engagement, introduced Baroness Manzila Uddin, Bangladeshi born Member of the House of Lords and ardent advocate of women's rights who welcomed the audience by linking climate change to gender issues. This was particularly fitting on International Women Day 2023.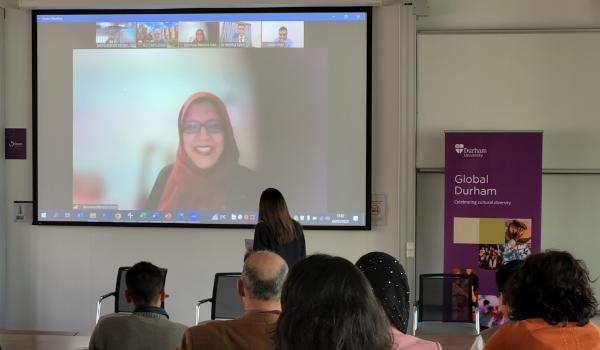 Baroness Manzila Uddin dialled in to the event virtually
Panel members included, Professor ASM Maksud Kamal, Pro-Vice Chancellor, University of Dhaka, Bangladesh, Dr Bayes Ahmed, Institute for Risk and Disaster Reduction (IRDR), University College London (UCL) and Director UCL Humanitarian Institute, Dr Sakib Amin, Associate Professor of Economics, North South University, Bangladesh, Dr Mahfuz Kabir, Director, Bangladesh Institute of International and Strategic Studies (BIISS), Ministry of Foreign Affairs, Government of Bangladesh, Dr Laura Marsiliani and Dr Habib Rahman, from the Business School and Durham students from the Bangla Society.
The event closed with a networking session which allowed the attendees to reflect on the key topics discussed.
-----
Find out more