New students celebrate officially joining Durham University
27 September 2023

Matriculation ceremonies are held annually to welcome new students to the University.
Vice-Chancellor and Warden Professor Karen O'Brien welcomed new students to Durham this week in joyful ceremonies held in Durham Cathedral. They join a vibrant community of scholarship as well as our wider community in the beautiful city of Durham.
Students were joined by the staff and existing students from their colleges who greeted the freshers with banners, singing and celebrations.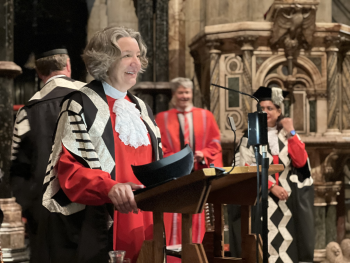 What is Matriculation?
Matriculation is a day of celebration – a rite of passage for students as they formally join Durham University and for the University as we welcome our new community.
The term 'Matriculation' is used to describe students' formal entry into the University and is described in the University's Regulations as "the act of placing a student's name upon the matricula or roll of members of the University."
It is an exciting time for new members of our community and helps to demonstrate what makes being a Durham University student so special.
Vice-Chancellor, Professor Karen O'Brien (pictured) gave a warm welcome to the new members of our Durham family and looked to their futures:
"We have a fantastic alumni community all over the world. It is one of the great pleasures of my role that I am able to travel to visit them in so many places. I know that the networks built here at Durham will continue to grow throughout each student's journey. I very much look forward to seeing this cohort back here in the Cathedral when their course is complete to celebrate graduation together."
A special day
Matriculation 2023 took place on Wednesday 27 and Thursday 28 September at Durham Cathedral.
Students attend in their college groups and celebrate becoming official members of their colleges.
One undergraduate and one postgraduate student from each college sign the Matriculation book during the ceremony on behalf of the new intake of each college.
"Wearing your gown and enjoying the wonderful service makes your initial university experience feel a bit like Hogwarts, in the best possible way!"
Lizzie English (Biosciences, St John's College, 2021)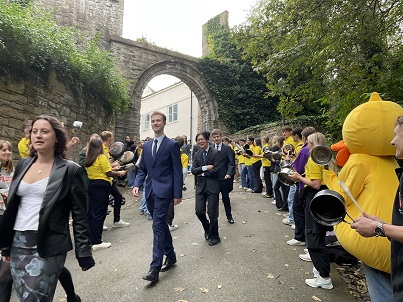 College communities greet their new students coming out of the Cathedral with banners, music, chants and mascots.
"My fondest memory and the one that always brings a smile to my face is the matriculation ceremony. Stepping into the Castle's courtyard and being welcomed by the clatter of pots and pans was a remarkable start to a wonderful journey. The unique collegiate structure ensured that I felt at home right away, even as an international student. Having that instant sense of belonging was a pleasantly surprising aspect that set Durham apart."
Milica Spasojevic (Mathematics, University College, 2021)
A special place
Durham is a special place with an intimacy and history that provides a unique experience and place to grow; from globally outstanding teaching and research to an extraordinary collegiate community that will stay with students throughout their life.
Our students have incredible opportunities to learn from world leading scholars, in world leading subjects, participate in a wealth of sports and arts and are supported to do outstanding things both at Durham and across the globe.
We challenge, we open minds, and we support all students from all backgrounds to become truly extraordinary.
Find out more
Find out more about the Matriculation ceremonies
Read our latest blog with what you need to know for starting at Durham
Watch our 2022 Matriculation throwback reel