Durham University announces the Richard S. Ellis prize for early career scientists
7 November 2023

Professor of Astrophysics and esteemed former Durham colleague, Professor Richard Ellis CBE FRS has donated a generous prize for aspiring astronomers to assist them with their early-career ambitions.
For scientists who are early in their careers, securing employment in their field can be a considerable challenge and often be a barrier that many find too difficult to overcome. Many end up abandoning their career as a scientist in the search of better opportunities which results in a significant loss on the scientific community.
The Richard Ellis Prize aims to tackle this issue head on and seeks to enable talented astronomers to raise the profile of their research during the last phase of their PhD and open opportunities as they launch themselves into this critical phase of their career.
Professor Ellis explains: "I know from experience that the step from a successful PhD student to a postdoctoral researcher is one of the hardest to achieve given the intense competition nowadays. I was very fortunate in my own career to make that move to Durham in 1974 and I hope this prize will assist promising young students to embark on their own careers."
Head of Department of Physics, Professor Paula Chadwick said: "This wonderful prize will make a real difference to the future careers of our PhD students at Durham. We are very grateful to Richard for his generosity, and hope that he enjoys seeing some young scientists making their first important career steps thanks to his generosity."
About Professor Ellis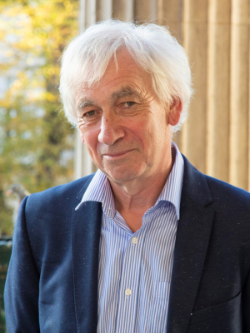 Richard Ellis is currently Professor of Astrophysics at University College London (UCL). He was a staff member at Durham University from 1974 through 1993 and, under the late Arnold Wolfendale's guidance and with support from Professor Carlos Frenk and others, oversaw Durham's rapid growth in astronomy, and particularly its observational and instrumentation programme. After a period as Director of the Institute of Astronomy, Cambridge he spent 15 years at Caltech where he served as Director of the Caltech Optical Observatories with responsibilities for operating of the Palomar and Keck telescopes. He returned to UCL in 2017.
Richard's research has range from studies of nearby galaxies and clusters through surveys of distant galaxies to fundamental measurements in cosmology using supernova, weak gravitational lensing and large-scale structure. Most recently he has focused his efforts on using the James Webb Space Telescope to search for "cosmic dawn" - the period when the first galaxies emerged from darkness.
Richard's work has been recognised by many awards including the Gold Medal of the Royal Astronomical Society, the Royal Medal of the Royal Society and, most recently, the Gruber Cosmology Prize.
Find out more