Masterclass on Socially Engaged Filmmaking with the film director of Ice Cream Sellers: Sohel Rahman (followed by film showing)
A masterclass on Socially Engaged Filmmaking, followed by a screening of the award-winning film Ice Cream Sellers, with Q&A with the director Sohel Rahman.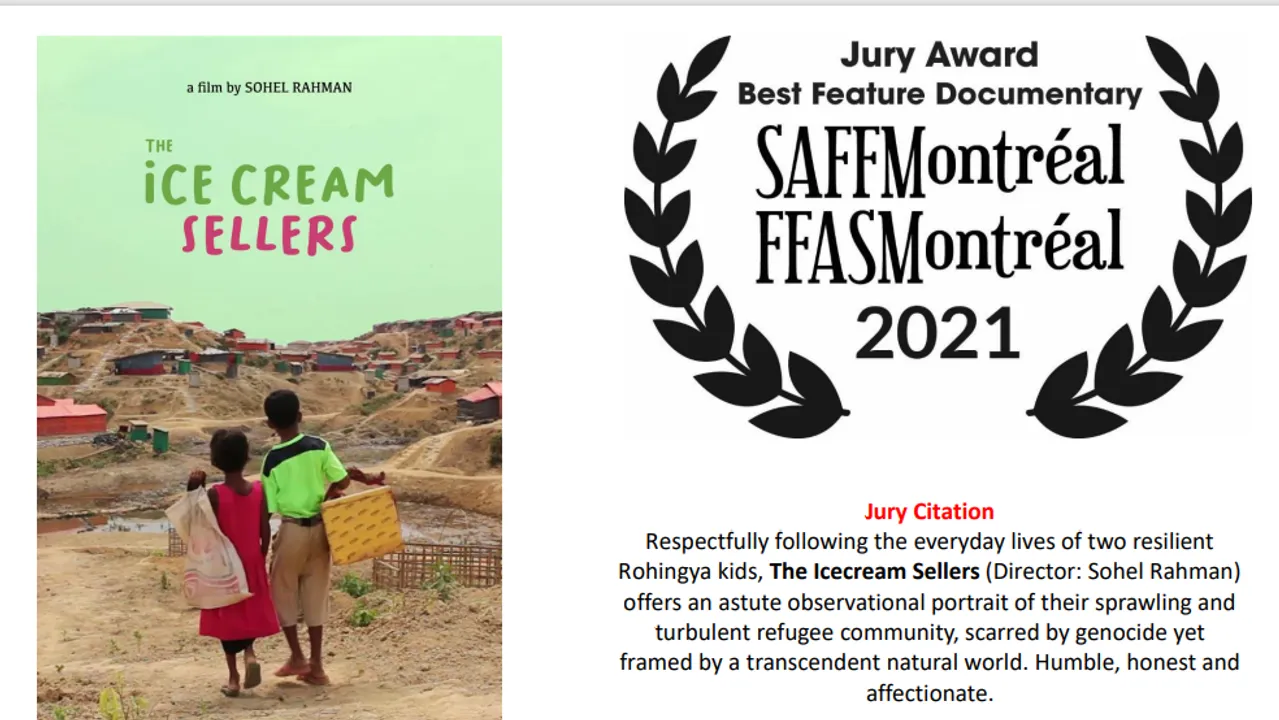 The Ice Cream Sellers (2021)
Supported by: the Institute of Advanced Study, Anthropology, DGSI and Faculty of Social Science and Health
Venue: CG91, Department of Chemistry
200 - 4.00pm: Masterclass
4.30pm -7.00pm: Film Screening and Q&A with Director, Sohel Rahman
This will be followed by Q&A and discussion with Peace and Trust scholars (Elisabeth Kirtsoglou, Alwa Azraiy, Fiona Macgregor, Bhakti Khati, Tahura Enam Navile, Sadaf Noor Islam, and Roger MacGinty). Introduction by Faculty Executive Dean Charlotte Clarke. Moderated by Nayanika Mookherjee.
To attend in person, places must be registered here.
Further details are available here.
Download flyer with QR Codes.
Watch the film trailer here.
____________
Abstract:
After the Rohingya genocide, the two little siblings began their new life by selling cheap ice-cream door to door in the world´s largest refugee camp in Bangladesh in a desperate attempt to earn enough money to bribe officials for the release of their father from prison in Myanmar.


About Sohel Rahman:
Sohel Rahman Filmmaker, Writer, Producer Sohel is an award-winning filmmaker, writer, and producer based in Lisbon, Portugal. His films have been screened internationally in various film festivals and universities around the world. Sohel received the best feature documentary film award from the South Asian Film Festival of Montreal, Canada in 2021, and from Tasveer South Asian film Festival, Seattle in 2021 for his film The Ice Cream Sellers 75" (2021). He also received the best film award from Lusofona University, Lisbon in 2015 for his film A Passagem (2014). In the same year, he won the Special Jury Award at the Encontros International Cinema de Vienna Film Festival in Portugal.

Born in Chittagong, Bangladesh, Sohel's love of visual art, literature, and storytelling drew him to filmmaking early in life. In 2014 Sohel received a European joint master's degree in documentary film directing (Docnomads) from three prominent European Universities ( Lusofona University, Lisbon, University of Theatre and Film Arts, Budapest, and Sint LUKAS International University, Brussels). He also studied English literature at Shahjalal University of Science and Technology, Sylhet, Bangladesh. Sohel finished the first semester of his PhD study in social and cultural anthropology at NOVA University of Lisbon.

He worked in the CANNES award-winning Portuguese film A Fabrica de Nada (2017) as an intern. His graduation film A Passagem (2014) was screened in many film festivals and universities including Doclisboa international film festival and Cinemateca Portuguesa. His first feature-length creative documentary film The Ice Cream Sellers (2021) about the Rohingya genocide has been screened in many film festivals, especially in The USA, Germany, France, India, Nepal, Canada, and Colombia. In addition, the film has been scheduled to be screened at so many prestigious universities of the world including Yale, UCLA, Haawai, UC Berkeley, Erasmus University Rotterdam, Radboud University, Nijmegen, Humboldt University, Berlin, NYC, Brown University, University of Texas. Sohel is the director and chief organizer of Mostra de Cinema sul Asiatico, Lisbon, Portugal.

Sohel is currently working on his new film, Dancing with the Sea, about the deadly works and daily lives of four Portuguese barnacles fishermen in the Atlantic Ocean. His Notable film works are: A Passagem 25" (2014) The Stranger 10"( 2013), The Sketch 10" (2013) Undefeated 10" (2010), Songs From Another Eden 30" (2018), and The Ice Cream Sellers 75" (2021).
____________
Abstract: