Professor Ramesh Subramaniam
IAS Fellow at Ustinov College, October-December 2022
Professor Ramesh T. Subramaniam received his B.Sc., M.Tech.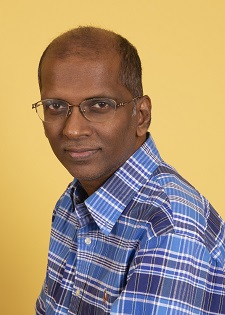 (Materials Science) and Ph.D. (Advanced Materials) from the Universiti Malaya, Malaysia. He was previously the Deputy Dean of the Faculty of Science and Frontier Science Research Cluster. Currently he serves as a Senior Professor at Department of Physics, Faculty of Science, Universiti Malaya. He is a recipient of a "Fulbright Fellowship" with a tenure at the Princeton University, USA as a Visiting Fellow and a recipient of a senior Durham International Fellowship for Research and Enterprise (DIFeREns)" at Durham University.
He is a material scientist well known for his outstanding scholastic contribution on solutions for energy storage and harvesting devices for a clean energy and sustainable smart cities of tomorrow. The novelty of his research was the successful invention of highly adhesive polymer membranes, self-healable hydrogel electrolytes and electrodes using Malaysian natural resources, environmentally friendly polymer electrolytes and techniques in the fabrication of green electrochemical devices.
Professor Subramaniam is well recognized in his field, internationally and locally, evidenced by the many international and national awards he has received. He was selected as a "TWAS Young Affiliate Fellow" in 2009 by The World Academy of Sciences. In 2010, he received the "Pacifichem Young Scholar Award" from the American Chemical Society and in 2011, the "Young Scientist Award" from IUPAC. In 2012, he received the "IAP Young Scientist Award" and the following year was selected as a "Young Scientist of the Global Young Academy (GYA)". In 2014 he was selected as one of the "Top Research Scientists Malaysia (TRSM)" and in 2016 elected as a "Fellow of the Academy of Sciences Malaysia (ASM)". In 2017, he was conferred the "Established Scientist Award" by Royal Society and also elected as a "Fellow of Royal Society of Chemistry (RSC)". He was awarded the "MTSF Science & Technology Award" by Malaysia Toray Science Foundation (MTSF) in 2018. He has also been awarded the University of Malaya Excellent Lecturer (Sciences) Award 2019. In 2020 he was recognized and placed as World's Top 2% Scientists for Career-Long Citation Impact (Precisely 1.2%) by Stanford University.
On the global front, he was the Invited Scientist for World Science Forum and World Economic Forum. He won awards in many innovation exhibitions. His major contribution to society is through the service and knowledge as a scholar of the ASM, RSC, GYA and TWAS.
At Durham, he will be working with Dr Paul R. McGonigal from the Department of Chemistry and the 'Functional Molecules and Materials' research group on "Energy Storage Devices for Smart Sustainable Cities". His research fits perfectly within Energy and Clean Growth – one of the five university-wide research themes at Durham and the Opportunities in Pollution project at the IAS. He will also collaborate with energy economists to compare economic efficiency of energy efficient vehicles and the internal combustion engine vehicles considering both economic and environmental perspectives. In addition, he will foster knowledge sharing and collaboration to apply for Capacity-Building Consortium grants under Erasmus Projects on sustainable cities.