Overview
Dr Tina Jakob
Technician (Bioarchaeology and DNA)
---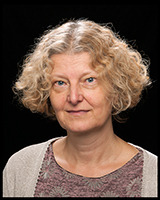 Affiliations

| Affiliation | Room number | Telephone |
| --- | --- | --- |
| Technician (Bioarchaeology and DNA) in the Department of Archaeology | 203A | +44 (0) 191 33 41116 |
Biography
I am a Teaching Fellow/Assistant Professor (Teaching) in the Department and provide classroom and laboratory-based teaching in bioarchaeology at all undergraduate levels as well as the MSc in Palaeopathology. Previously I was the Archaeological Science Technician of the Department, while my colleague Beth Upex was on maternity leave. In addition to providing technical assistance, I was involved in teaching human bioarchaeology to undergraduate and postgraduate students. I supervise undergraduate, MSc in Palaeopathology and PhD dissertation projects.
Having taught on the MSc in Palaeopathology since 2004, I was a Teaching Fellow and MSc in Palaeopathology Course Director until September 2008. In 2006, I was also working part-time as a Curator for Physical Anthropology at the Department of Ancient Egypt and Sudan (British Museum). I completed my PhD dissertation at the Department of Archaeology, Durham University, in 2004. My research concentrated on differences in health and disease patterns in early medieval populations from Britain and southwestern Germany. Previously, I obtained my MSc degree in Osteology, Palaeopathology and Funerary Archaeology from the University of Sheffield. I also hold a Master's degree in Pre- and Protohistory, Physical Anthropology and Art History from the University of Tuebingen, Germany.
Teaching
This academic year (2018-19) I am, together with Anwen Caffell, co-directing the MSc in Palaeopathology programme (Term 1) and contribute to teaching on the following modules:
Postgraduate teaching
MSc in Palaeopathology:
Identification and analysis of the normal human skeleton (lectures and laboratory sessions)
Palaeopathology: Theory and Method (laboratory sessions)
Themes in Palaeopathology (lectures and seminar)
Research and Study Skills in Arcaheological Science (lectures and workshops)
MA Archaeology (lectures on careers and applying for PhDs)
Undergraduate teaching
Level 1:
Archaeological Practicals (practical session)
AAM/SMA 1/ACSAM (lectures)
Level 3:
Specialised Aspect 'Recent Trends in Human Bioarchaeology' (lectures and tutorials)
SMA 3 (lecture and workshop)
Museum Representation (lecture)
Projects
Since 2007, I am working with Drs Donatella Usai and Sandro Salvatori (CSSeS, Italy) on a multiphase cemetery in central Sudan. As bioarchaeologist I am responsible for the excavation and analysis of human skeletal remains from the site of Al Khiday 2 (16-D-4).
In additon I am working on human skeletal remains from Mograt Island, Sudan, an excavation directed by Dr. Claudia Naeser (UCL).
As on-site human osteologist I excavated human remains at the Nile's 4th cataract (Merowe Dam Archaeological Salvage Project) in northern Sudan in 2005-06, a project directed by Derek A. Welsby (British Museum/Sudan Archaeological Research Society).
In 2005, I worked on Charlotte Whiting's (CBRL Amman) Southern Jordan Iron Age Project (SJIAP). During our survey we found extensive evidence for funerary behaviour and more in-depth excavations are intended in the future.
Membership in Professional Organisations
British Organisation for Biological Anthropology and Osteoarchaeology (BABAO)
Palaeopathology Association (PPA)
American Association of Physical Anthropologists (AAPA)
Sudan Archaeological Research Society (SARS)
International Society for Nubian Studies
European Association for Archaeologists (EAA)
Research interests
Human bioarchaeology
Palaeopathaology, focussing on population-based studies of health and disease
Osteological techniques
Esteem Indicators
2014: 2014-2017 Secretary of the British Association for Biological Anthropology and Osteoarchaeology:
2013: 2013-2016 Director at Large I Paleopathology Association (Student Liaison):