Overview
Miss Caitlin Rankin-McCabe
---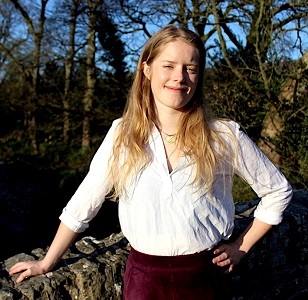 Biography
I am a PhD candidate working in the Department of English Studies here at Durham University. My research is funded by the Arts and Humanities Research Council through the Northern Bridge DTP.

My project explores representations of angels in English literature from around the 1570s to 1700. Interest in this topic stemmed from a powerful love of John Milton's epic poem, Paradise Lost. My work looks into plays, poetry and prose that attempt to define, or in some cases, undefine angels. The thesis explores apophatic language and descriptions of angels in order to trace the rise in the cult of the individual and ideas about the perfect body: both of which remain important concepts in many of today's cultures.

I have a First-Class BA honours degree in the History of Art and English at the University of Exeter, where I completed my dissertation, under the supervision of the brilliant, Professor Karen Edwards. Following my BA, also I undertook an English Studies MA (Renaissance Pathway) at Exeter whilst holding the position of Vice-President for the University's Students' Guild. My MA, for which I received a Distinction, was supervised by Professor Ayesha Mukherjee: it looked at Mughal India and the writings of the court historian Abu'l-Fazl who wrote in the court of Akbar the Great. After a brief stint as an archivist, I started my PhD here at Durham in 2019.

I welcome any questions about my research. You can find me on Twitter @RankinMccabe. I am also the chair of Durham MEMSA (the Medieval and Early Modern Student Association) please follow us on Twitter: @DurhamMEMSA
Conference Presentations:
'Glorious angels, or else cursed devils!' Transforming women into angels in early modern rhetoric, Edinburgh Early Modern Network Seminar, University of Edinburugh, UK, 6th December 2022
Who is the fairest of them all? Magic mirrors and their contents in Medieval and Early Modern literature. MEMSA President Emeritus Seminar, University of Durham, UK, 17th October 2022
From Pageant to Playhouse: Silencing the Stage Angel 1400-1620. The Multimedia Craft of Wonder Conference, Churchill College, University of Cambridge, UK, 1st December 2021
Encountering the Spectre. Revisiting Revenge Workshop on New Perspectives for the Study of Revenge Tragedies, Ghent University, Belgium, 16th-17th September 2021
"'Banish the body from your mind': Bodiless Angels in the Early Modern Imagination." Late Summer Lectures, University of Durham, UK, 9th September 2020
"Ineffable angels in John Milton's Paradise Lost." British Milton Seminar, University of Birmingham, UK, 19th October 2019
"The East and Hell in Christopher Marlowe's Tamburlaine Parts One and Two." Space, Place and Interface: Being in the Early Modern World CEMS Conference, University of Exeter, UK, 23rd -24th May 2018
Public Outreach:
Keywords project on 'Self-esteem' with Kings College London, March 2021: Self-esteem — CEMS KCL Blog (kingsearlymodern.co.uk)

Talk on "The Gardens of Mughal Indian Miniature Painting 1550-1620." MEMSA Community Course, 20th May 2020.
Supervisors:
Research interests
Early Modern Drama
Medieval and early modern cartography
Northern Renaissance art from 1530s onward
Representations of the 'East' in Early Modern Literature
The body (both human and non)