Overview
Dr James Koranyi
Chair of Examiners/Associate Professor (Modern European Cultural History)
--- Affiliations

| Affiliation | Room number | Telephone |
| --- | --- | --- |
| Chair of Examiners/Associate Professor (Modern European Cultural History) in the Department of History | | +44 (0) 191 33 42994 |
Biography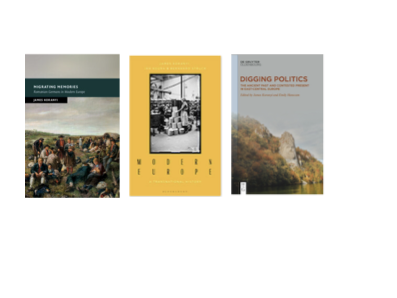 I am a cultural historian of east-central Europe. My work covers the German minorities of east-central Europe, memory cultures, and travel writing in the Carpathians. I am particularly invested in reading modern east-central European history with a transnational perspective.
German minorities
In my book Migrating Memories: Romanian Germans in Modern Europe (Cambridge University Press, 2021), I chart the story of German speakers in Romania in modern Europe. It is a book about a migration, minorities, and memories in a turbulent and transnational century in modern Europe. Romanian Germans were at the centre of major European events after 1918 and were constantly forced to rethink their identities. From uneasy supporters of Romania, to enthusiastic Nazis, to tepid Communists, to conciliatory Europeans, the story of Romanian Germans in modern Europe intervenes in debates in European history, migration, memory and minority studies.
I am also currently working with the IKGS (Munich) and the Arbeitskreis für Siebenbürgische Landeskunde on a project on the radicalisation of Romanian Germans in the 1930s, as well as a project with Cristian Cercel (Bochum) on transnational Germans.
Memory cultures
My work and teaching covers memory cultures throughout east-central Europe and asks questions about memory construction and transmission. I am also keen to push against the boundaries of east-west divisions in memory studies scholarship. German minorities in east-central Europe and sites of memory in the 'Habsburg world' play a key part in understanding memory boundaries.
Transnational history
I am completing a book with Bernhard Struck (St Andrews) and Jan Koura (Prague), Modern Europe: A Transnational History (Bloomsbury), in which we introduce a series of vignettes that plot a transnational European history that radically decentres modern European history. Foregrounding east-central Europe as well as global connections, Modern Europe charts a European history in three discreet episodes: 1760s-1850s, 1860s-1960s, and beyond the 1960s. More broadly, I am interested in east-central Europe's liminal position in global history.
Carpathian travellers
My new project explores New Europeans in the Carpathians, 1860-1920. From the 1860s, travellers, ethnographers, medics, and other bourgeois Europeans set out to discover the Carpathians. Over the next half century until the First World War they left behind a tapestry of writing, documentation, reports, visual material, correspondence and other traces. My project examines this confluence of a European interest in the Carpathian uplands that takes us away from the straightjacket of postcolonial readings of travel writing.
Other projects
I jointly edited a special issue of National Identities with Tricia Cusack on 'The Making of Landscape in Modernity'. I am currently working with Emily Hanscam (Durham) on a project investigating the uses of ancient pasts in east-central Europe. Our edited volume, Digging Politics: The Ancient Past and Political Present (De Gruyter, 2022), will be a product of a workshop took place in Durham in June 2019.

Twitter: @jtkoranyi
Doctoral Supervision
I welcome research students who want to work on minorities, memory, travel, or other aspects of transnational history. My geographic range is broadly-speaking the 'Habsburg world', Romania, as well as German-speaking world, but research supervision is not limited to that. 
Current and former PhD students:
Zoe Shipley
Research interests
East-central Europe in the nineteenth and twentieth centuries
Memory cultures
Minorities in east-central Europe
Transnational history