Overview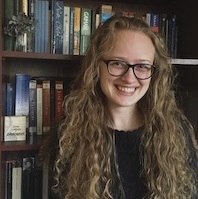 Biography
I am a Wolfson Foundation Doctoral Scholar, exploring the thematic use of music and sound in the contemporary novel. With a particular focus on the use of Western classical music in conflict settings of the twentieth and twenty-first centuries, I have identified what I term the 'musico-literary novel': a novel which is thematically concerned with music. While my focus is on the literary presentation of music in the contemporary novel, my research is interdisciplinary, as I combine music philosophy concerns with literary studies, alongside elements of trauma theory, conflict transformation studies, and ethical issues regarding the re-writing of war. My supervisors are Dr. David Ashurst and Dr. Sam Thomas (English Department, Durham University), and Prof. Martyn Evans (Music Department, Durham University; retired as of Oct 2019), and I am funded by the Wolfson Postgraduate Scholarship in the Humanities.
I hold an MA, with Distinction, in English Literary Studies from Durham University (2018), and a BA, First Class, Hons, in English Literature from Durham University (2017). Alongside my research in musico-literary studies, I also have research experience in Old Norse literary and translation studies, which was the subject of my MA dissertation, and informs my tutorial teaching on the module Myth and Epic of the North. My MA research formed the basis of a peer-reviewed publication, available online, and titled, 'The Mediation and Re-creation of Guðrún Gjúkadóttir in English Translations of the Poetic Edda in the Twentieth and Twenty-First Centuries', published in Postgraduate English, November 2018.
I am active on Twitter (@KatieOsha), where I tweet about my research as well as wider topics. I also co-write a regular blog about the intangible qualities of objects (medium.com/objects), and I have a personal website (k.harlinglee.com) which has more information about my work. I also co-founded and co-run ModCon: Modern and Contemporary Literature Network with Durham PhD student Arya Thampuran (https://modcondurham.wordpress.com/).
Publications and Appearances
Peer-Reviewed Publications
Conference Papers
'The Transgressive Terror of Music in Orfeo (Powers, 2014)', BACLS-WHN 2021 (online), Sept 2021

'

Listening to Survive: Classical Music and Conflict in the Musico-Literary Novel

', Rewriting War and Peace in the Twentieth and Twenty-First Centuries, Barcelona, Spain, Sept 2021 (postponed from 2020 due to Covid-19)

'

Listening to Survive: Sound and Music in the Literary Soundscape of Conflict', NeMLA, Online, March 2021



(Accepted) 'When Music Meets Literature: Defining the Contemporary Musico-Literary Novel in Times of Conflict', English: Shared Futures, Manchester UK, June 2021 (postponed from 2020 due to Covid-19)
'The Marginalised Operatic Voice in Ann Patchett's Bel Canto', WMAF, St Andrews/Online, Sept 2020
'Defining the Contemporary Musico-Literary Novel in Times of Conflict', NeMLA, Boston MA, USA, 5-8 March 2020
'The Creative Possibilities of Guðrún's Emotional Ambiguity in Twentieth and Twenty-First Century English Translations of the Poetic Edda', 13th Bergen International Postgraduate Symposium in Old Norse Studies, Bergen, Norway, 10 April 2019
'The Mediation and Creation of Emotion, Endurance, and World-Views in Translations of Eddic Poems Relating to Guðrún Gjúkadóttir', Norse in the North, Durham UK, 9 June 2018
'Music, Identity, and the Self in Three Contemporary Novels: "Does it alter us more to be heard, or to hear? Is it better to have been loved, or to love?"', Josephine Butler Research Forum, Durham UK, 23 April 2017
Public Lectures
'Classical Music, Conflict, and Identity in the Contemporary Novel', Late Summer Lectures, Durham UK, 25 September 2019
Teaching
Teaching Assistant, ENGL1041: Epic and the Literature of Legend (2019-22)
Teaching Assistant, ENGL1061: Introduction to the Novel (2020-21)