Overview
Professor Karen Milek
Professor of Geoarchaeology
---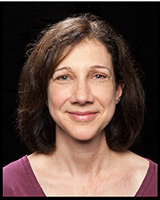 Biography
Originally from southern Ontario, Canada, Karen received her BA in Anthropology and Near Eastern Studies from Victoria College, University of Toronto, in 1995. Her field training began as a seasonal employee with Parks Canada, working on historic sites in Ontario, but two field seasons in Ireland expanded her professional interest to include the Early Medieval Period in northern Europe. She went to Peterhouse, at the University of Cambridge, to do an MPhil in World Archaeology (1st Millennium AD) in 1995, which deepened her interest in the Vikings and sparked a new interest in geoarchaeology and soil micromorphology. She stayed at the University of Cambridge to do her PhD at Newnham College, working on Viking Age and 19th-century (ethno-historic) houses in Iceland, using geoarchaeological analyses of floor sediments to elucidate living conditions and how living spaces were organised and used.
Since 1997, Karen has brought expertise in archaeological field survey, excavation, and geoarchaeology to numerous Viking Age, Pictish Period, Medieval, and Early Modern projects in England, Scotland, Norway, Iceland, and, most recently, Siberia and Canada. She worked as seasonal excavation staff for the Institute of Archaeology, Iceland (FSÍ), from 2000-2007, becoming Director of the FSÍ / North Atlantic Biocultural Organisation's Field School in North Atlantic Archaeology in 2005, and Project Manager of the Viking Age Vatnsfjörður Excavation Project in 2006, roles she retained until the completion of the Vatnsfjörður excavation in 2013.
Karen was appointed Lecturer in Archaeology at the University of Aberdeen in 2007, where she helped to establish the new Department of Archaeology and had a key role in the development of its udergraduate degree programmes, serving as Undergraduate Programme Coordinator from 2007-2011. In 2009 the Graduate Program in Anthropology at the City University of New York appointed her as Adjunct Research Professor in recognition of her ongoing research and research-led teaching in the North Atlantic region. Karen was promoted to Senior Lecturer in 2015.
On August 1, 2017, Karen moved to the Department of Archaeology at Durham University to take up the post of Associate Professor (Reader) in Geoarchaeology. She remains an Honorary Research Fellow with the Department of Archaeology at Aberdeen University.
Research interests
Migrations and invasions and relationships between incomers and indigenous peoples
Impacts of culture contact on material culture, especially residential architecture and objects used in everyday life
Ethnoarchaeology and ethno-historic archaeology, especially to help develop new methodologies for the interpretation of activity areas
Experimental archaeology
Geoarchaeology, including soil survey, archaeological soil micromorphology, geochemistry, magnetic techniques, and lipid biomarkers
Early medieval period, especially the Viking Age, in: Scandinavia, the North Atlantic Region, NW Siberia, the United Kingdom, Ireland, and the Isle of Man
19th and early 20th century in: Scotland, the North Atlantic Region, and Canada
Excavation and environmental sampling methods
Ground-truthing of remote sensing anomalies, including multi-spectral satellite imagery
Microrefuse analysis
Space syntax analysis in archaeology
Human-environment-animal interactions
Social archaeology of houses, farmsteads, and transhumant/nomadic pastoralist sites