Overview
Dr Kate Sharpe
Research Associate
---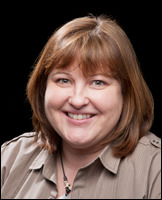 Biography
Over the last few years I have held various roles within the Department and the Antiquity journal. My most recent research post was as PDRA on an AHRC-funded project, Co-producing Tolerant Futures through Ancient Identities with Chiara Bonacchi (PI) and Richard Hingley (CI). This is a Follow-On from Iron Age and Roman heritages: exploring ancient identities in modern Britain on which I worked from 2016 to 2019.
I also work freelance, supporting staff and students with copy editing, especially for non-English speaking archaeology authors. Major  projects include the edited volumes 'Megaliths of the World' and 'The Rise of Metalwork in Eurasia'.
From 2014 to 2015 I worked with Richard Hingley and Rob Witcher on a Follow-On to the Tales of the Frontier Project; and from 2011 to 2013 I provided general research support to HoD Chris Scarre. 
My own research centres around the use of stone in prehistoric Britain - including megaliths, stone tools and, primarily, rock art, particularly in Cumbria. My most recent publication is a co-edited volume celebrating the life of Stan Beckensall, produced along with an exhibition of rock art photographs as part of the Belief in the North East project.  I edit an informal newsletter, Rock Articles, which aims to inspire and connect researchers, heritage managers, and enthusiasts with an interest in British rock art.
Before discovering a love of prehistory, I completed a degree in Biochemistry at Newcastle University and spent twelve years in pharmaceutical information management. I took up archaeology full-time in 2002, returning to full-time study for an MA (2004) and a PhD (2007) at Durham University. Alongside my doctoral research I worked on the Breaking Through Rock Art Recording project (2004). After my PhD I managed several community-based projects including the Northumberland and Durham Rock Art Project (EH-sponsored) and CSI: Rombalds Moor project in West Yorkshire, helping local people to record rock art for research and conservation, and subsequently, the Rock Art on Mobile Phones project at Newcastle University (ICCS), developing user-driven interpretative content for visitors to rock art sites.
Research interests
British rock art
Megalithic monuments
Neolithic stone axes
Cumbrian prehistory
Rock art recording and management
Community archaeology
Heritage management and interpretation
Landscape archaeology