Overview
Dr Kevin Waite
Associate Professor (Modern American History)
---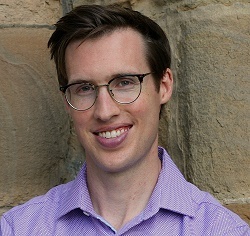 Biography
Kevin Waite is a historian of the 19th-century United States with a focus on slavery, imperialism, and the American West. His first book, West of Slavery: The Southern Dream of a Transcontinental Empire (UNC Press, 2021), won the 2022 Wiley-Silver Prize from the Center for Civil War Research and was a finalist for three other awards: the Lincoln Prize, the SHEAR Manuscript Prize, and the Paul E. Lovejoy Prize from the Journal of Global Slavery. West of Slavery was named one of the "11 books that shaped how we think about California" by Boom: A Journal of California and one of the "Five Best Books" ever written on the Civil War in the American Far West by the Civil War Monitor. 
His next book project reconstructs the life and times of Biddy Mason, an enslaved woman from Georgia who, in the mid-19th century, walked across the continent, broke free from bondage, and helped build modern Los Angeles. The book, provisionally titled American Odyssey, is under contract with University of California Press. That work is funded by a Research, Development, and Engagement Fellowship from the AHRC. From 2019-2022, Kevin co-directed a Collaborative Research Grant from the National Endowment for the Humanities, investigating the origins of Black Los Angeles with a team of scholars and public historians.  
Kevin comments frequently on American history and politics for major media outlets. His writing has appeared in The Atlantic, The Los Angeles Times, The Washington Post, Slate, HuffPost, The New Republic, TIME, and National Geographic, among others. One of those articles for the L.A. Times led to the removal of the oldest Confederate monument on the Pacific Coast. He has also spoken about his research on television and radio, including interviews with LBC, LBC News, BBC Radio 3, Metro Radio, National Public Radio, and as a talking head for three TV documentaries. He sat on Mayor Eric Garcetti's Steering Committee for the creation of a memorial to the victims of the 1871 Los Angeles Chinese Massacre, one of the largest mass lynchings in American history. He also helped coordinate a campaign to preserve an endangered series of 1930s murals by the artist Bernard Zakheim, one of which features Biddy Mason. Those efforts have generated extensive media coverage, including stories in The L.A. Times, The New York Times, and NPR.
Kevin received his PhD from the University of Pennsylvania in 2016. He also holds degrees from the University of Cambridge (MPhil, Modern European History), where he was a Herchel Smith Fellow, and Williams College (BA, History, English, Phi Beta Kappa, magna cum laude). He is a Fellow of the Royal Historical Society.
PhD supervision
Kevin welcomes inquiries from prospective students working on a broad range of topics in U.S. history, especially those interested in the American Civil War era, the history of slavery and emancipation, and the American West.
Supervision students
Mr Daniel Doherty
Anti-Abolitionist Violence in the Antebellum North, 1840-1845
Mr Mark Markov
Wars not fought: Neutrality and European Navies in American Waters during the US Civil War