Overview
Mr Matthew Lumley
Greek and Latin Monasticism in Southern Italy during the Crusader Era
---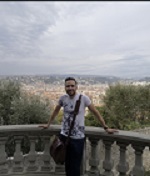 Affiliations
Affiliation
Greek and Latin Monasticism in Southern Italy during the Crusader Era in the Department of History
Biography
About the Project
Within my project I am researching the ecumenical relations between the Greek and Latin communities which resided in Southern Italy during the Crusader period. The said geographical position and religious dimension is one which is unique to much of what was then considered Christendom. Unlike much of Europe, the Latin and Greeks co-existed within their lifestyles and religious practices, despite the friction that arose following the supposed 'Great Schism'. In addition to this, the territory of Southern Italy was highly contested, with cities declaring their allegiances either to the Byzantine Emperors, Norman Kings, the Holy Roman Emperors or Popes. It is from this that I am attempting to fully dissect the extent to which the Latin and Greeks perceived one another as the 'Other' in the diverse land of southern Italy.
Publications:
Book – 'Christendom's Ascendancy, The Empire of Christ in Rome'. (publishing date: TBA)
This book recounts the gradual conversion of the Roman World to the Christian faith, the destruction of the pagan cults at the hands of militant Emperors and fanatical Bishops.
Research interests
Gregorian Reforms and its impact on Christendom
The Byzantine Empire, from Empress Irene (797-802CE) – Manuel (1143-1180CE)
The Byzantine Emperor Justinian (527-565CE)
Christianity's influence within the Roman/Byzantine Civilisation