Overview
Professor Natalie Mears
Professor (Early Modern British History)
---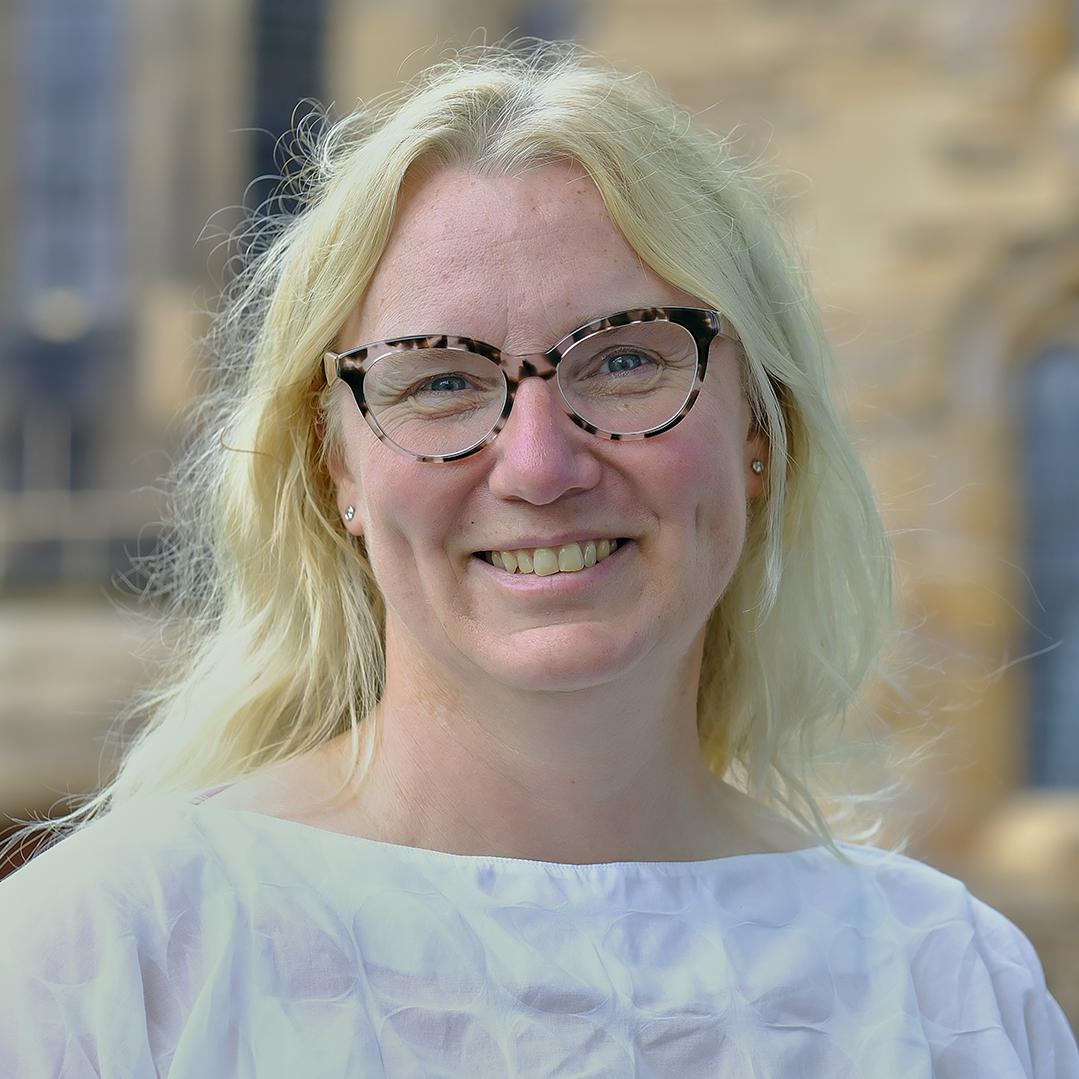 Biography
I am a first-generation academic: that is, I am the first (and only) person in my family to go to university as an undergraduate, let alone to go on to further degrees. I have primarily been a historian of Tudor and early-Stuart politics and religion, but my new project focuses on the posthumous representation of Elizabeth I in light of the #MeToo and #BlackLivesMatter movements. I have a continuing interest in the representation of the Tudors and Stuarts in opera, as a result of a series of workshops I conducted with successive groups of second year students with the help of Ruth Paton and English Touring Opera (funded by an Excellence in Teaching grant from the university).
My interest in the early modern period began when I did voluntary work in the archives of Hatfield House before I went to university. The home of the marquesses of Salisbury, it contains the Cecil Papers -- the papers of William Cecil, Lord Burghley (Principal Secretary and Lord Treasurer to Elizabeth I) and his son, Robert Cecil, earl of Salisbury (Principal Secretary to Elizabeth I and James VI and I, as well as Lord Treasurer to James) – probably the most important collection on early modern English politics in private hands. I loved working there so much that I went back every vacation during my undergraduate degree at Cambridge and used the archive for my undergraduate dissertation which was published, in shortened form, as 'Regnum Cecilianum? A Cecilian perspective of the court', in John Guy's edited collection, The Reign of Elizabeth I: Court and Culture in the Last Decade (Cambridge, 1995). I went on to complete an M.Litt in Historical Research and a doctorate with John at the University of St Andrews. I taught at the universities of Cambridge, Manchester and Swansea, as well as working as a research assistant on the Clergymen of the Church of England Database, before coming to Durham in 2003. I was promoted to professor in the summer of 2023. 
My initial interests were in high court politics, political culture, and the nature of Elizabeth's queenship, all things that I investigated in my first book, Queenship and Political Discourse in the Elizabethan realms(Cambridge, 2005), and in a number of articles. From 2007, I was co-investigator, with Philip Williamson and Stephen Taylor (both Durham) on the AHRC-funded project, British state prayers, fasts and thanksgivings, 1540s to 1940s. This project explores over 800 occasions of special worship: prayers, liturgies, fasts and thanksgivings ordered by the crown or government, either to seek divine help during periods of crisis (such as plague, famine or war) or to thank God for his intervention. I was lead editor for the first of a four-volume edition, published by the Church of England Record Society in 2013: National Prayers: Special Worship since the Reformation. Volume 1: Special Prayers, Fasts and Thanksgivings in the British Isles, 1533-1688. I am currently co-editing, with Philip Williamson, the fourth and final volume; my focus is on the unofficial and official anniversary occasions, such as Accession Day and Fifth of November. 
My new project (working title: Exploding Elizabeth) is influenced by the #BlackLivesMatter movement that has put a critical spotlight on Britain's history and the representation of it's past. The public representation of Elizabeth I has been dominated by elite, white, educated, protestant men from her contemporaries, William Camden, John Foxe and Edmund Spenser, to modern historians, playwrights, film and TV producers. The last Tudor queen has been used to endorse and promote particular political, religious and cultural positions: English (protestant, isolationist) national identity; (protestant) religious compromise and moderation; absolutism as well as constitutional monarchy and democracy; and the idea of a benign British empire. Where she has failed to match traditional Western ideals of femininity, she has been characterised as an 'honorary man', reduced to a romantic heroine, or classed as a salutary reminder of how unfulfilling 'unfeminine' behaviour is. Exploding Elizabeth is different. In the light of the #BlackLivesMatter and #MeToo movements, it examines how Elizabeth's story has been retold by those outside this orthodox circle -- Catholics, women, LGBTQ, PoC, and working-class historians, writers, artists, and producers. It shows that these 'outsiders' have had a profound impact on both mainstream accounts and popular consciousness; an impact that has been often been concealed or snubbed. It explores how Elizabeth's image, and those of some of her subjects, have been, and continue to be, challenged and criticised from the perspectives of gender, sexuality, race and slavery -- and where these traditional imperial narratives remain uncontested and uncontroversial: UK school curricula, video games and some popular histories of Sir Francis Drake and Sir Walter Raleigh. And it opens up the rich and varied ways in which different publics re-imagine the queen, from the gothic novel to fanfiction, graphic novels and animé. 
My research on wall-paintings of Elizabeth and the Spanish Armada led both to my involvement in the conference at the House of Lords in 2008 on the Armada project (to complete the series of Burchett paintings of Lord Howard's Armada tapestries, lost in the fire of 1834; see https://armada.parliament.uk/index.html) and an appearance on Lucy Worsley's Royal History's Greatest Fibs (BBC, 2019-20). I am the historical consultant for Becoming Elizabeth (2020-1) and I have provided historical research services for Great Houses with Julian Fellowes (ITV). I have written programme notes for Shakespeare in Love (Noel Coward Theatre, London and the play's North American premiere); written for BBC History Magazine; appeared on Radio 4's Making History, Newstalk's 'Talking History with Patrick Geoghegan', as well as the podcasts 'Bloody Mary: on air' and 'This Shakespeare Life' (http://www.cassidycash.com/ep168)
I am privileged to be invited regularly to lecture and talk to new teachers through the Prince's Teaching Institute. I have recorded many lectures/podcasts hosted by The Faculties and Massolit, and I have developed a teacher/student pack of documents on The Reformation in collaboration with The National Archives: http://www.nationalarchives.gov.uk/education/resources/the-english-reformation-c1527-1590/
I welcome expressions of interest from graduate students wanting to work on representations of the Tudors and Stuarts, as well as on Tudor and early Stuart court and popular politics, the nature of early modern governance, and religion, especially puritanism and special worship. 
Research interests
The public memory of Elizabeth I
The Tudors and early Stuarts in Opera
Special worship and religious anniversaries in the British Isles, 1530-1660
Tudor and early Stuart politics and religion
Supervision students
Miss Camilla Thompson
Examination of royal patronized performance and literary publications during Mary Tudor's reign
Miss Louise-Aurore Ebongue Bonny
Teaching Assistant
Ms Nancy Johnson
The Court of Mary Queen of Scots