Overview
Dr Oliver Belcher
Deputy Director of Combined Honours
---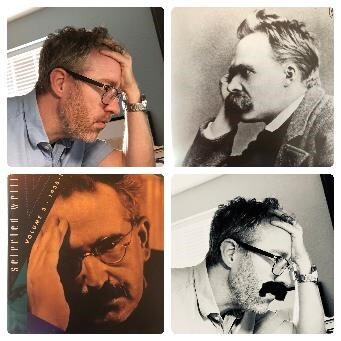 Biography
Oliver Belcher's research is at the intersection of political theory, geography, and global environmental politics. He has a long-standing interest in the technological dimensions of American imperialism, especially the history of computing and social sciences in the Vietnam and Afghanistan wars.
With colleagues at Queen Mary and Lancaster University's Environmental Centre (LEC), he is engaged in a long-term project on the role of military emissions in global environmental change. This research has been featured in Wired Magazine, Newsweek, The Conversation, Scientific American, Time Magazine, The Guardian, and several other media outlets.
Oliver's research has been funded by the British Academy and ESRC.
Current Projects:
Hidden Carbon Costs of Global US Military Operations
This ESRC-funded project (2021-2023) examines the US military as a major climate actor, and its oversized institutional role in producing carbon emissions and global environmental change. I am working with Dr Ben Neimark (Queen Mary), Dr Kirsti Ashworth (Lancaster), and the Conflict and Environment Observatory, to combine the insights of political ecology with those of critical geopolitics to examine the carbon costs of hydrocarbon-based fuels, concrete, water, sand that flow through US military supply chains. At COP26 in Glasgow, we launched militaryemissions.org. Check it out!
Military Carceral Logics from Vietnam to Afghanistan
This British-Academy funded book project interrogates the carceral logics of the US military in the postwar period. The book focuses on the history of prisoner interrogation from Korea and Vietnam, to Abu Ghraib and Guantanamo; the US military's strategic hamlet program and hamlet evaluation system in the Vietnam war; the walling of Baghdad; and the destruction and rebuilding of villages by the US military in Afghanistan.
Editorial Board:
Environment and Planning C: Politics and Space
Qualifications
PhD, University of British Columbia (2014)
MA, University of Kentucky (2007)
BA, University of Kentucky (2005)
Awarded Grants
2021: "Concrete Impacts: A Supply Chain and Life Cycle Analysis of the US Military's Environmental Footprint," ESRC (£299,989.30)
2020: "Computational Counterinsurgency: Digital Labour and Logistical Imperialism in the Vietnam War," British Academy Mid-Career Fellowship (£113,348.56)
2018: "Counter-revolutionary Logistics: Computation, Techno-politics, Vietnam," British Academy Small Grant (£8,970)
Research interests
Biopolitics
Carceral Geographies
Climate Politics
Critical Theory
Political Theory
Psychoanalysis
Esteem Indicators
2020: Mahoney Prize, The Special Interest Group for Computing, Information, and Society (SIGCIS):

Received for "

Sensing, Territory, Population: Computation, Embodied Sensors, and Hamlet Control in the Vietnam War

," Security Dialogue 50.5, 416-436 (2019).

The Mahoney Prize recognizes an outstanding article in the history of computing and information technology, broadly conceived.

2019: Virginie Mamadouh Outstanding Research Award, Political Geography Specialty Group, American Association of Geographers: Received for "Anatomy of a Village Razing: Counterinsurgency, Violence, and Securing the Intimate in Afghanistan" (Political Geography 2018)
2012: The Antipode Graduate Student Scholarship Winner: The Best-Laid Schemes: Postcolonialism, Military Social Science, and the Making of US Counterinsurgency Doctrine, 1947–2009
Supervision students
Miss Anna Okada
Research Postgraduate (PhD)