Overview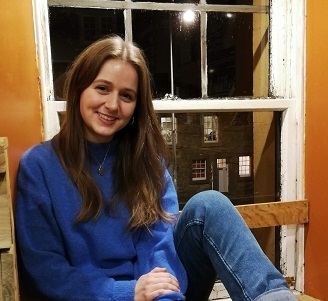 Biography
I began studying for a BA in English Literature at Durham University in 2016, and was awarded a First Class Honours degree in 2019. During my time at Durham I was awarded a Laidlaw Scholarship and researched dramatic scenes by Shakespeare of the treatment of madness with Dr Patrick Gray. My undergraduate dissertation, entitled '"Down with Pens": Female Pedagogy on the Early Modern Stage, 1590-1700', examined dramatic scenes where female pedagogy goes wrong and provided the inspiration for my PhD research. I then moved to the University of St Andrews to undertake a funded MLitt in Shakespeare and Renaissance Literary Culture. My dissertation for this degree, supervised by the brilliant Neil Rhodes, argued that Shakespeare uses his own plays as sources and intentionally creates intertextualities within his canon. I graduated from St Andrews with Distinction, earning a place on the Deans List.
I have returned to Durham as a PhD student, supervised by Professor Barbara Ravelhofer, Dr Gillian Skinner and Dr Mandy Green. My research, which is funded by a Von Hugel Award, is provisionally entitled '"When she went to school": dramatic representations of female education, 1590-1730'. Whilst my undergraduate dissertation focused exclusively on scenes where female education goes wrong, whether due to negligent parents, randy tutors or inept teachers, my doctoral research stretches the canvas to paint an in-depth picture of how female education was presented on the stage in a period where attitudes towards and methods of female education were fast-moving. I am working with a wide array of playwrights, both female and male, canonical and non-canonical, and hope to track the longitudinal trends and differences between their representations of female education.
My interests outside of doctoral research include Shakespeare's dramaturgy, literary afterlives of early modern drama, names and naming in literature, autofiction by women, Irish fiction by women in the twenty-first century, and death in fiction.
Awards and Prizes
Durham University, Hatfield Trust-MCR Research Grant (2022)
Durham University, Hatfield Trust-MCR Research Grant (2021)
Durham University, Von Hugel Award (2021-23)
University of St Andrews, Deans List (2020)
University of St Andrews, FMLS Scholarship (2019-20)
Durham University, Laidlaw Scholarship (2017)
Conferences and Seminars
(Accepted) '"Do any men come amongst them?" Dramatic representations of girls' schools on the page and on the stage', at 'In and Out of the Closet: New Perspectives on Early Modern Closet Drama International Conference', Sorbonne Nouvelle, 25-26 November 2022
'"Studious she is and all alone": dramatic representations of the spaces of early modern female autodidacts, 1590-1721', at 'On Location: Material Space and Literary Production c.1500-1651', University of Oxford, 23-24 June 2022
'The Learned Lady's Mother: Youth's Glory and Death's Banquet, Lady Mother Love, and representations of motherhood in seventeenth-century drama', at 'The Biennial International Margaret Cavendish Conference', International Margaret Cavendish Society, 9-11 June 2022
'"Look upon other women": John Webster, The White Devil, and early modern conduct literature', at 'Cabinet of Curiosities', University of York, 7 February 2022
'Marina's school and Bianca's desk: Shakespeare's off-stage spaces of female learning', at 'The 23rd Annual British Graduate Shakespeare Conference', Shakespeare Institute, 23-27 August 2021
'"Do any men come amongst them?" "Oh, no": female space and male exclusion in Margaret Cavendish's The Female Academy', at 'MEMSA Crossing Borders, Contesting Boundaries II', Durham University, 19-21 July 2021
'"What's in a name?": Measure for Measure and Shakespeare's Intertextual Characters', at 'The Twenty-Second Annual British Graduate Shakespeare Conference (BritGrad Festival)', Shakespeare Institute, 14-20 September 2020
'"The story shall be changed": Shakespeare Rewriting his Characters: Dramaturgy and Intertextuality', at '"Year Without Summer': MLitt Conference in Literature 2020', University of St Andrews, 7 August 2020
'Female Boarding Schools on the Seventeenth Century Stage', at 'Renaissance Academic Drama and the Popular Stage', University of St Andrews, 11-13 June 2020
Publications
2022, Davies, Orlagh, 'Microscope', for KCL CEMS Blog 'Key Things' Series, <https://kingsearlymodern.co.uk/keythings/microscope>
2021, Davies, Orlagh, 'William Wycherley's The Gentleman Dancing-Master (1672): the first black teacher on the early modern stage?', Notes & Queries, 68. 4 (2021), 418-419.
Teaching
2022-23 Teaching Assistant, ENGL1061: Introduction to The Novel
2021-22 Teaching Assistant, ENGL1011: Introduction to Drama
Volunteering and Research Posts
Research Assistant to Professor Simon James, summer 2022.
Cataloguing volunteer on Bamburgh Library Collection at Palace Green Library, October-November 2021.
Research Assistant to Dr Patrick Gray, spring 2021.
Peer reviewer for MEMSA's 2021 Journal, autumn 2020.