Overview
Dr Richard Thompson
Associate Professor
---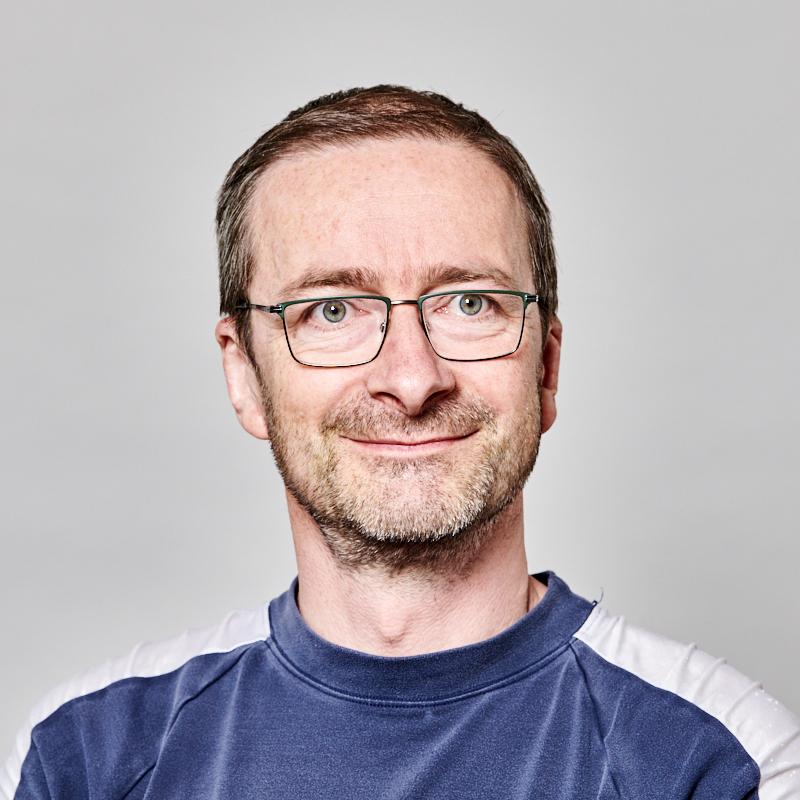 Affiliations

| Affiliation | Room number | Telephone |
| --- | --- | --- |
| Associate Professor in the Department of Chemistry | MC107A | +44 (0) 191 33 42139 |
Biography
EDI - Co-Chair
Departmental Environment Champion
Rheology and composites
The behaviour of materials under flow is essential to understand for many processing, manufacturing and product uses. We use controlled rheology experiments on well defined samples to study their behaviour in simplified flow conditions and combine with theory, modelling and other experimental techniques to understand the complex behaviours of modern materials.
Research Interests
Research in Dr Thompson's group is focused on the physical chemistry of polymers and particularly their fascinating behaviour at exposed surfaces and buried interfaces. Within this area, there are two main themes: (i) the relationship between chemical functionalisation of polymer and their self-organisation,[1, 2] and (ii) the exploitation of unusual process environments to control this behaviour.[3, 4] As well as addressing fundamental polymer science problems, the group collaborates with actively with industry and other research groups to address diverse topics such as surface modification, rheology (flow) problems, polymer electronics[5] and nanocomposites.[6]

Influence of solvents on polymer adsorption and diffusion
-why bake, when you could boil, steam or deep fry!?
Polymer processing frequently makes use of organic solvents and we have used ion beam and optical techniques to explore for the first time the relationship between the ingress of a penetrating solvent vapour or nonsolvent and the interdiffusion of polymer chains that can accompany this process. Not only does this allow us to understand how to make efficient use of organic solvents, but is leads to new opportunities in polymer self-organisation. We have also shown for the first time that polarity, pH and ionic strength of a contacting non-solvent can all be harnessed to deliver different kinds of surface modification.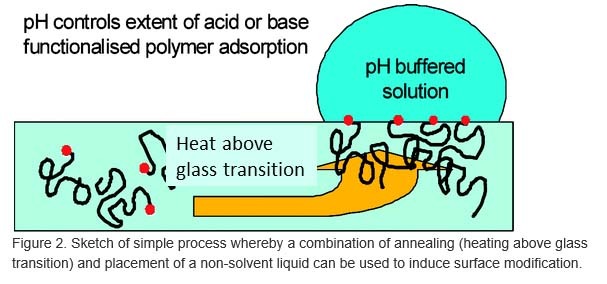 References
Kimani, S.M., et al., Synthesis and surface activity of high and low surface energy multi-end functional polybutadiene additives. Soft Matter, 2012. 8(12): p. 3487-3496.
Hardman, S.J., et al., Surface Modification of Polyethylene with Multi-End-Functional Polyethylene Additives. Langmuir, 2012. 28(11): p. 5125-5137.
Hutchings, L.R., et al., NonSolvent Annealing in Thin Polymer Films. Langmuir, 2010. 26(19): p. 15486-15493.
Thompson, R.L., et al., pH-Controlled Polymer Surface Segregation. Langmuir, 2009. 25(5): p. 3184-3188.
Rodriguez, A.B., et al., Structure of films of poly(3,4-ethylene dioxythiophene)-poly(styrene sulfonate) crosslinked with glycerol. Journal of Materials Chemistry, 2011. 21(48): p. 19324-19330.
Thompson, R.L., S.C. Gurumurthy, and M. Pattabi, Depth distribution of silver particulate films deposited in softened polystyrene substrates studied through Rutherford backscattering spectrometry. Journal of Applied Physics, 2011. 110(4). 043533
Research interests
Ion and neutron scattering techniques
Soft Matter
Polymer Blends
Surfaces and Interfaces
Nanocomposites
Esteem Indicators
2000: ISIS Facility Access Panel (Large Scale Structures) 2008-2011:
2000: ISIS Facility Access Panel (Spectroscopy) 2014-2018:
2000: British Society of Rheology: Council Member and Hon. Bulletin Editor