Overview
Professor Ritu Kataky
Professor
---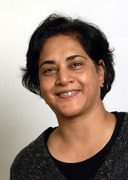 Biography
Research Interests
Materials for sensing, delivery of actives and drugs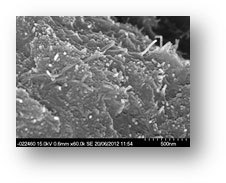 We use liposomes, gels and nanomaterials for in-vivo and in-vitro sensing and delivery. The aim is to develop materials that are biocompatible and 'soft' for replacing solid state devices. The picture on the left shows a PEDOT/CNT modified biocompatible hydrogel which is electrochemical and mechano sensitive.
This work additionally extends to collaborative work with Procter and Gamble for delivery of actives.
Electrochemical measurement of electron and ion transport at liquid-liquid interfaces
Electrochemistry at the liquid‑liquid interface or the interface between two immiscible electrolyte solutions (ITIES) is a simple model of the biological membrane. It provides a means to study the transfer of a wide range of compounds. These electrochemical processes are especially interesting as they can provide information about the non-redox-active species, whole cells, bioactive molecules and ions. We have used the liquid liquid interfac for studying chiral interctions between drugs and proteins, lipid‑bioactive molecule interactions amongst others.
Current collaborative work with Procter and Gamble extends to studying detergency at a liquid-liquid interface.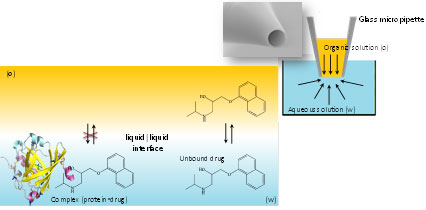 Interactions of lipid membranes and cell mimics with bioactive molecules
Electron and ion transfer properties of supported and black lipid membranes modified with membrane associated molecules are studied using electrochemistry, impedance spectroscopy and Scanning Electrochemical Microscopy.
Developing sensors and biosensors for environmental, clinical and pharmaceutical monitoring.
We have developed sensors electrochemical sensors for a wide range of applications in novel formats includingchiral sensors, multi‑analyte sensing platforms microelectrode arrays, chemically responsive micro grippers, sensors for formaldehyde monitoring amongst others.
Research interests
Electrochemistry
Sensors
Charge Transfer at Interfaces
Esteem Indicators
2000: Esteem indicators from 2007-2014:

Notable Invited, Keynote, Plenary Lectures:

Portuguese Electrochemical Society Annual Meeting, Coviliha, Plenary , 2007

Golden Jubilee of Bhabha Atomic Research Centre, Trombay, India,

conference on Electroanalysis. Plenary Talk and workshop, 2008

International Society for Electrochemistry, Turku, Finland,

Keynote,2011

Annual Meeting of Indian Society of Electrochemistry

Plenary, 2012

Bioelectrochemistry workshop, Lochow, Poland,2013

International Society for Electrochemistry, Santiago de Queretaro, Mexico,2013

International Society of Electrochemisry, Malmo, Sweden,Keynote,2014

Electrchem 2014, New Horizons in Electrochemistry , Loughborough UK, Keynote, 2014

 ECHEMS 2014 , 

Electrochemistry in Molecular Understanding,

 Wells, UK, invited , 17-20 June 2014

Chairs at International conferences:

Chair

of the electroanalytical session at the 57th Annual Meeting of the 

International Society of Electrochemistry

, Edinburgh., 2007

Organiser and chair

of symposium on Electroanalysis at Electrochem 2012, RSC Electrochemistry Group i, 2012

Chair of the

Analytical Research Forum 2012

, Durham.2012

Scientific committee member and

symposium chair

in

Faraday Discussion 164

, Electroanalyses at the Nanoscale,.2013

Chair of

Electrochem 2015

, Moleculear Materials in Electrchemsitry, 13-15 Sept 2015
Supervision students
Miss Jenny Maunder
Teaching Fellow