The Ice Warrior project: mission to reach the Northern Pole of Inaccessibility

By: Joe Witt
Date: March 2023

Meet Joe, Durham alumnus and trainee explorer, who is embarking on a challenge that is certainly not for the faint hearted. Taking part in this project comes with real risks and will push participants to reach where no-one has ventured before – the Northern Pole of Inaccessibility.

Joe's motivation
Some may deem a challenge like this crazy, but I have decided to take part in this project to push myself out of my comfort zone. Since leaving Durham (Geography, St Mary's College, 2017-2020), I have found myself becoming comfortable in life with no significant challenges. I believe that you learn most about yourself and benefit the most from adverse situations/environments. This project will undoubtedly offer that, and hopefully provide me with skills and experiences that I can integrate into my normal life.
On a personal note, I lost my Dad during the COVID-19 pandemic which acts as an inspiration for me to pursue my passions and I'm determined to challenge myself through the Ice Warrior Project.
As a Geography (BSc) graduate, and now working as an Environmental Consultant, the science is also an important motivation to take part. I want to play my part in a project that actively contributes to climate action and helps further the understanding of the planet and how we can protect it.
Inspiration from Durham
I've always had a passion for outdoors adventure, and this continued to grow through the experiences I had at Durham. Learning about global processes and immersing myself in the natural world through my physical geography degree was pivotal in this, and I was lucky to undertake a range of fieldtrips with the Geography Department, including a three week expedition to Iceland to complete my dissertation research on the Virkisjökull-Falljökull glacier (with financial support from the Durham University Expeditions Group). My degree also gave me an important baseline understanding of the data collection techniques required to complete a citizen science expedition.
Outside of the academic work, I was involved in the DUCK Challenges team throughout my time at Durham. In 2018, I joined the DUCK Everest Base Camp trek which set the trajectory for me to go onto lead the DUCK Kilimanjaro Expedition in 2019. The opportunities available to me at Durham really inspired me to continue with my combined passions of outdoor adventure challenges and completing fieldwork/data collection in remote regions of the planet and contributing to world-leading science.
What is the Ice Warrior Project?
Ice Warrior was founded 22 years ago by Jim McNeill, with the aim of training individuals to be competent modern-day polar explorers. The project has been successful with seven major expeditions completed since 2001 and approximately 450 ordinary novices from all walks of life have taken part in training to become competent polar explorers. These expeditions are purposeful and worthwhile, with the ultimate aim to help scientists further understand our planet and to deliver our findings in a manner which engages everyone on the environmental challenges we face.
Ice Warrior's next flagship expedition is to the Northern Pole of Inaccessibility, which is defined as the point in the Arctic Ocean furthest away from land. The Northern Pole of Inaccessibility is yet to be reached by mankind and is considered the last world-first in polar expeditions. The Ice Warrior team to plan complete this expedition in 2024 (provided financial support can be secured), which will comprise an 800-mile journey from Cape Isachsen in Canada to the Northern Pole of Inaccessibility. Along the 800-mile journey, we will be collecting data on the condition of the sea ice, weather, oceanography, pollution and species. This will feed back to world leading science and provide important data to be integrated into climate models. Following the expedition, we hope to personally be able to tell our story, while the data collected will be able influence international policymaking.
Find out more about the Ice Warrior Project.
What happens next?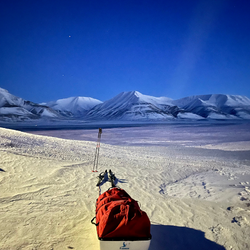 I am in the process of completing training to become a competent polar explorer. I have already undertaken a 10-day 'Core Skills' training course in Dartmoor, where we learnt the basic skills for an expedition but in a UK environment. This included outdoor first aid, navigation and rope/ pulley work, to name a few activities. In January, I completed my polar training in Svalbard. For over three weeks, I was applying the skills learnt in Dartmoor in a polar environment and learning how to survive in these conditions. Activities in Svalbard included polar bear protection, learning to ski with a pulk (the sled you pull), snow shelters, camp craft, navigation, cold weather first aid and an 8-day training expedition in the wilderness of Svalbard. Now back in the UK, I am continuing with physical fitness training and brushing up on the technical skills when I can.
If I successfully complete my training and I can fundraise the required funds, I will hopefully be taking part in the #LastPole expedition to the Northern Pole of Inaccessibility in 2024. The journey is split into four legs, each comprising 200 miles over 20 days. I will join one of the four teams as we ski across the Arctic Ocean and along the way collect scientific data to feed back to scientists. The expedition will gain significant exposure and those partnered with me will similarly receive significant exposure.
Find out more