An introduction to Macbeth at the 3rd Durham Fringe Festival

All images courtesy of Andrew Grant | www.aadgrant.co.uk
By: Alain Vendiola
Date: August 2023

Alumnus Alain Vendiola attended this year's Durham Fringe Festival to take in a performance of Macbeth by the Elysium Theatre Company.
With a wide range of shows to choose from, and a new stretch tent venue in the historical heart of Durham on Palace Green overlooked by Durham Cathedral, this year's Durham Fringe Festival from Wednesday 26 – Sunday 30 July brought laughter, music, suspense, magic and more to enthralled audiences.
This year also saw Durham Fringe form part of the Summer of Shakespeare festival, to mark the 400th anniversary of the publication of the First Folio of the complete works of Shakespeare.
Alain attended Macbeth in the new stretch tent, and has shared his thoughts with us on the performance and his experience.


Elysium Theatre's staging of Macbeth at Palace Green marked my little brother and I's first experience seeing this classic play.
The performance was extraordinary, and the venue's ambiance added an electrifying charm to the evening. The cast's acting absorbed us, especially the standout performances of Macbeth, Lady Macbeth, Macduff, the witches, and King Duncan, transporting us into a world of avarice, paranoia, mania, and betrayal. Additionally, the ensemble impressed as eerie phantasms crawling from underneath the stage, resembling reanimated corpses clawing to the surface. Their powerful voices and eerie shrieks echoed through the ancient stones of the cathedral and castle, creating an otherworldly atmosphere.
Another particularly haunting moment occurred during the death of Banquo, which, by sheer luck, coincided with the hourly ringing of the cathedral bells, reminiscent of the sound of a death knell.
Furthermore, the production's considered minimalist staging, costuming, and props allowed the actors' talent and the essence of the play to shine through. This was exemplified in the riveting sword fighting between Macbeth and Macduff towards the play's end. The sharp and palpable clashing of swords added intense realism to their confrontation, keeping us on the edge of our seats.
Overall, our experience of Macbeth at Palace Green was mesmerising. The exceptional acting, breathtaking setting, and well-crafted production elements left us spellbound.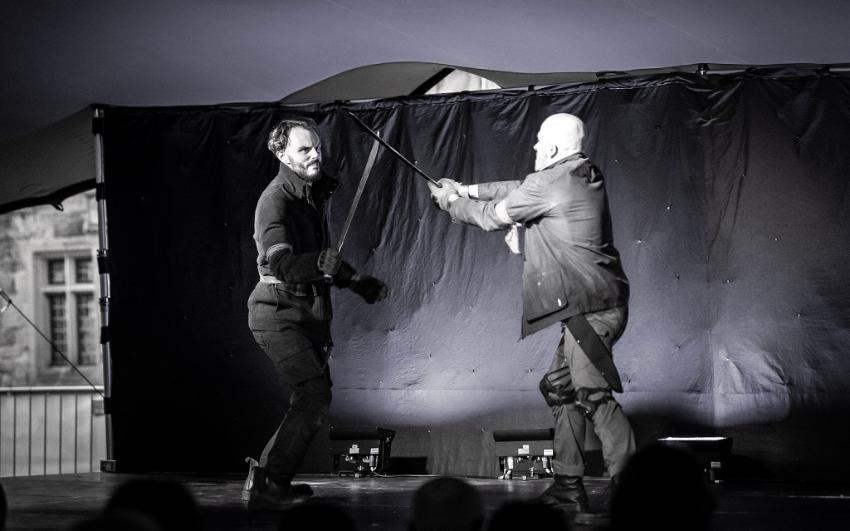 See our students, staff and alumni on stage
This year's Edinburgh Fringe Festival features a whole host of companies with links to Durham!
Ten talented student-led groups from Durham Student Theatre and Music Durham bring their shows to this renowned celebration of the arts and culture, alongside Professor Simon Rees from the Durham Centre for Academic Development, who makes his Edinburgh Fringe debut.
What's more, seven Durham alumni companies will also be performing - check out the groups below!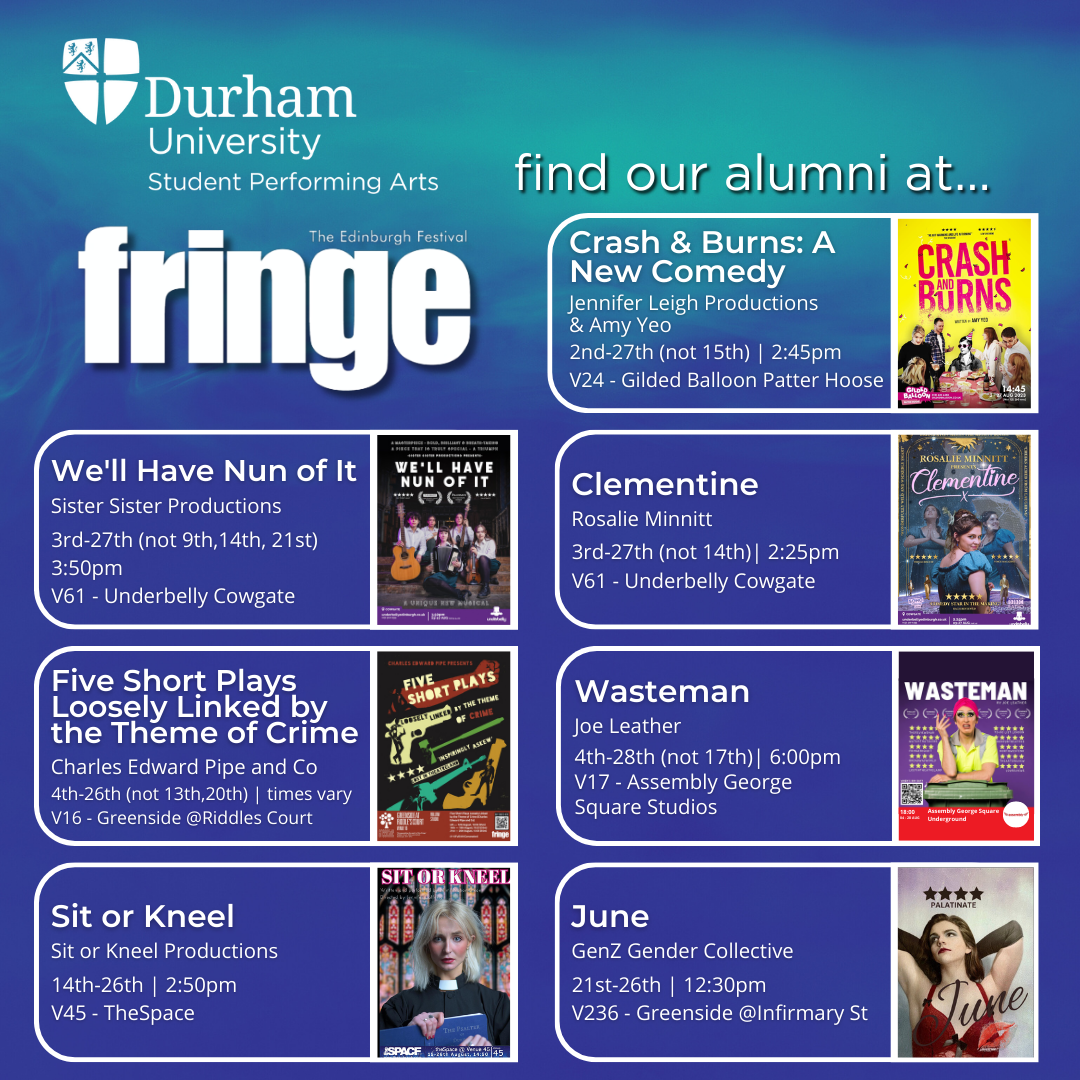 Find out more