Celebrating our alumni community in Asia

Date: March 2023

When our new Vice-Chancellor and Warden, Professor Karen O'Brien joined us back in January 2022, she planned to start travelling as soon as possible to visit our alumni and friends' communities all over the world.

As part of that commitment, she joined Professor Claire O'Malley, our Pro-Vice-Chancellor (Global) and several colleagues from the Alumni and Supporters Engagement team earlier this month for receptions with the alumni communities in Singapore and Tokyo.
The trip began in Kuala Lumpur, where 42 of our alumni and supporters were welcomed by Professor Claire O'Malley and Doctor Katie Harland-Edminson (Acting Director of our Development and Alumni Relations team). Professor O'Brien joined by video link and together they shared some of highlights of the last year and some insight into the vision for Durham over the next few years, including plans to support our growing alumni network in Malaysia.
Amongst the inspirational alumni on that evening was Dharrnesha Inbah Rajah (Economics & Politics, Josephine Butler College, 2012-15). Dharrnesha works as an early career researcher for the Lancet Commission on Breast Cancer. Her ultimate aim is to support improvements into breast cancer management and access to personalised treatment for women in Malaysia.
Dharrnesha is also part of the Global Shapers Community in Kuala Lumpur. Initiated by the World Economic Forum, the Global Shapers Community is a network of inspiring young people, all under the age of 30, working together to address grass roots community issues. A key focus of the Kuala Lumpur Hub is to support improved access to primary education; a subject very close to Dharrnesha's heart!
"The Global Shapers Community has been a great platform for me to support my community whilst upskilling myself through the learning opportunities offered by the Global Shapers Community and the World Economic Forum." (Dharrnesha Inbah Rajah).
As an active member of local alumni community, Dharrnesha appreciates the benefits that Durham brings, both in terms of education and her own personal development. She has built a professional alumni network that she intends to stay connected with, both for her own future and to support current Durham students, particularly those from Malaysia. But when asked about any aspects of her time at Durham that still influence her now, her answer really made us smile,
"Absolutely! I picked up Latin dancing as a fresher through DU Dancesport - and I have been dancing ever since."
The second inaugural reception was held at The Villa at Singapore's Botanical Gardens, where alumni and friends were welcomed by the Vice-Chancellor. Professor O'Brien's address was followed by a lecture from Professor Petra Minnerop, the Academic Lead of Durham University for UNFCCC engagement and climate change. Professor Minnerop updated on the current stage of the Global Stocktake (GST) of the Paris Agreement and expectations of COP27 and COP28 for this process, as well as on exciting collaborations in Singapore and the new Durham University Centre for Sustainable Development Law and Policy, of which she is a founder member.
Amongst the 31 guests at the reception to share news and experiences was one alumna who shared some lovely memories from her time at Durham. Margaret Alvarez (EdD Education, St Mary's College, 2004-13) is currently Vice President of International Accreditation for the Western Association of Schools and Colleges and told us a great story from her graduation day in 2013.
'When we were in the castle waiting for the procession to the cathedral, I went looking for a seat. I was wearing heels - something that I rarely do - and needed to take the weight from my feet. A fellow graduate sat next to me. We started up a conversation. She told me she was coming out to Singapore, where I was at that time a Head of School. Her plan was to marry her fiancee then look for a job. Knowing the quality of Durham graduates, I immediately gave her my details and told her to get in touch. Quality teachers are always on my radar! I wasn't sure she would do this as neither of us had phones or paper with us in the castle, but sure enough a few months later she made contact, and we became colleagues!'
A great example of the power of networking within the Durham community and as she explained, networking in Singapore is held in extremely high regard by nationals.
The final evening reception was held at the at Mandarin Oriental Hotel in Tokyo, where alumni guests joined the Vice-Chancellor, whose address updated on Durham news and her vision for the future before formally awarding alumnus Michael Shearer OBE with his 2022 Dunelmensis Award.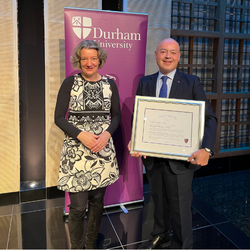 Recipients of Dunelmensis awards are selected annually in recognition of exceptional work to support the Alumni Community. Whilst heading up our Singapore Chapter, Michael supported the community during the global pandemic by offering opportunities for alumni and supporters to stay connected whilst remaining safe by offering his time as a keynote speaker for the Live in Lockdown programme. He has also contributed significantly to the University's employability agenda by dedicating hours to mentor current MBA students at Durham University Business School.
Michael also supports student recruitment efforts, having featured in the latest postgraduate prospectus with a testimonial he provided. Michael (MBA, Trevelyan College, 1995-96) is Head of Region (Asia Pacific) for the TRICARE Overseas Program at International SOS, he has been a senior British diplomat and has had leadership roles in both the public sector and in private industry and was also Vice President & Board Director of the British Chamber of Commerce Singapore between 2019-21.
Michael was awarded his OBE by Her Majesty The Queen in March 2012 for leading on-the-ground operations in Sendai to evacuate and support British Nationals, following the 2011 Great East Japan Earthquake. 
After a period when overseas travel was restricted, this trip to celebrate our community in three beautiful capital cities not only reinforced that Durham really does inspire the extraordinary, but also that our students continue to share their extraordinary inspiration throughout their individual journeys.