Research Forum
Welcome to the Music Department's 2023 - 2024 Research Forum. We are extremely pleased to once again be able to offer a fantastic programme of events and to welcome inspiring and distinguished speakers from all musical disciplines.
Programme for Michaelmas
10th October 2023 -Professor Tim Taylor, UCLA "Making Musicians Productive Laborers"
17th October 2023 -Ixion by John Snijders Book Launch and Panel Discussion (co-hosted by CVAC)
24th October 2023-Dr Kelly Jakubowski, Dr Annaliese Micallef-Grimaud, Dr Eamonn Bell, Durham Accelerating Digital Skills for Music Researchers
31st October 2023 - Professor Andy Hamilton Billie Holiday's Art: interpretation of a lyric versus vocal improvisation
7th November 2023 - Professor Neal Peres da Costa 'Mitigating the swerve to modernism: practice-led methods for reimagining historical music'
14th November 2023 - Department Impact Session
21st November 2023 - Dr Samantha Ege 'Undine Smith Moore's Soweto: A Cartography of Racial Terror, Rage, and Remembrance' co hosted by CNCS
Programme for Epiphany Term
5th March 2024 Dr Radha Kapuria, Department of History
12th March 2024 Dr Darci Sprengel 'From the Region, For the Region': Anghami and the Post-Colonial Politics of Localising Music Streaming in Emerging Markets
30th April 2024 Professor Magdalena Zorn
Take a look at our events pages or Music SharePoint site for more details.
Sessions take place on a Tuesday at 15:00 - 17:00 in the Concert Room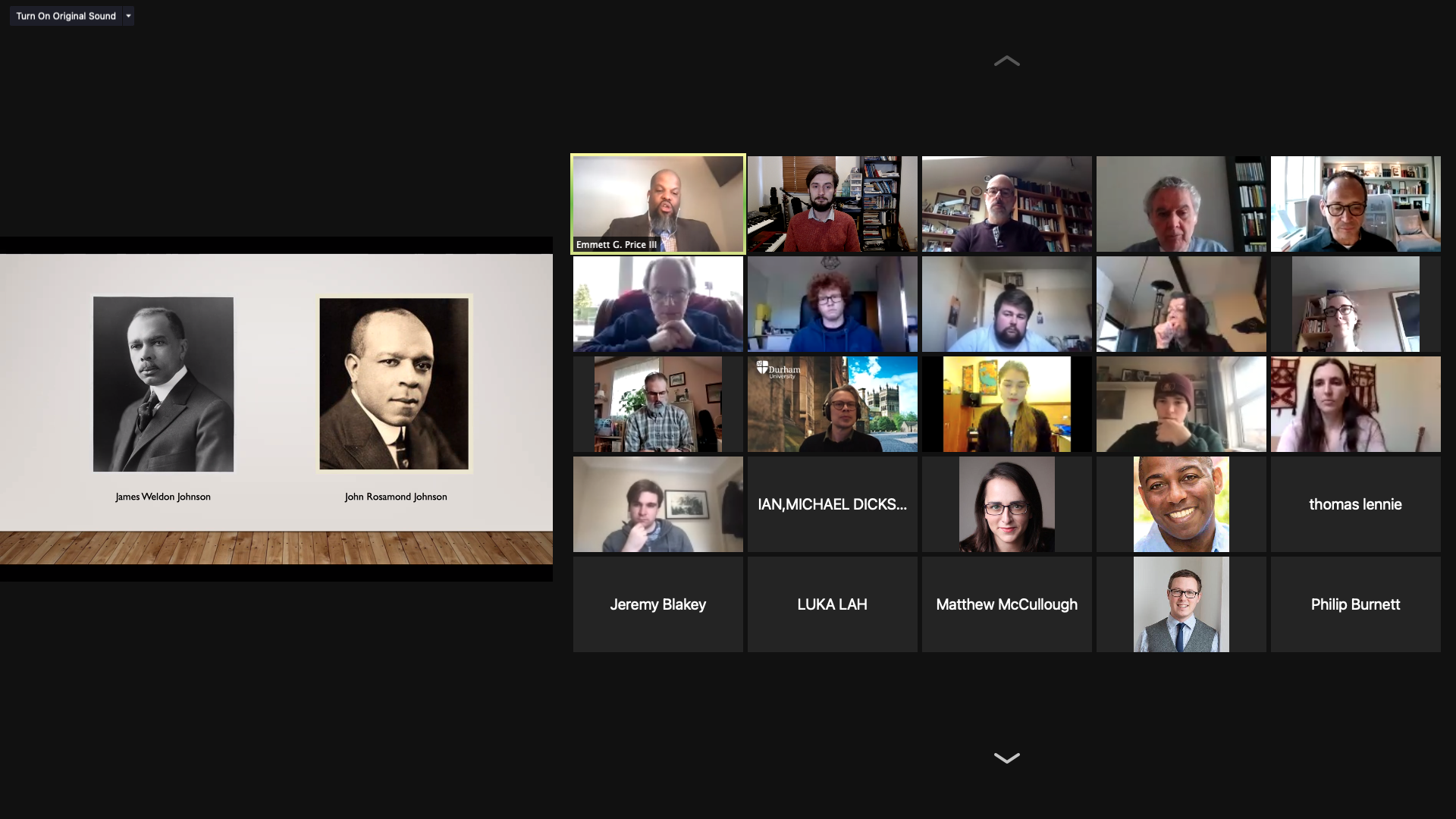 Postgraduate Seminar
The Postgraduate Seminar is the platform for our postgraduate students to present their own research to peers and staff. Contributions take the form of formal papers or use more creative presentation formats, and lead to group discussion.
Study Days and Conferences
Postgraduate students organise conferences of various kinds, centred upon particular themes and often working in partnership with external funders. These events feature invited keynote speakers and issue open calls for papers to postgraduate and senior scholars from around the country and overseas.