Overview
Dr David Petts
Associate Professor
---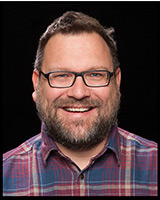 Biography
I am Associate Professor in the Department of Archaeology.
My main research focus is on the social archaeology of the 1st millennium AD, with a particular interest in the development of Christianity. As part of this I am carrying out fieldwork on the Holy Island on the site of the early medieval monastery of Lindisfarne with my collaborators DigVentures, funded through crowdfunding and a series of other grants including one from National Geographic.
Whilst most of my current work is focused on the north of England, I have significant research interests in Wales and Scotland, as well as the wider North Sea world. I and have written books on the early medieval church in Wales and a more theoretical consideration of the process of conversion in the early medieval world in Britain and elsewhere. Outside Britain and Ireland I have had a particular long-standing interest in the early church in Brittany and Western Normandy, and I am currently researching the early medieval sculpture in Southern Brittany (Morbihan).
Other key interests include the archaeology of the post-medieval and contemporary past, particularly in Britain. I have recently completed an innovative new investigation of the impact of the Great Depression of the 1930s on the landscape of Northern England funded by the Leverhulme Trust. My interest in the more recent past also extends to using material-studies approaches to better understand vernacular belief and traditions, particularly traditional dance.
In addition to my work on Holy Island I have run a number of field projects. I ran the Department's major field school at the Roman fort of Binchester (Co. Durham). This was a joint initiative being run by Durham University, Durham County Council and a number of US Universities and aims to explore the Roman and early medieval activity at this important cavalry fort and its associated civilian settlement, which formed part of the frontier defences of Roman Britain.
In 2011 I was been chosen as one of the winners of BBC Radio 3 and the Arts and Humanities Research Council (AHRC) inaugural New Generation Thinkers Scheme. I am a member of the Institute for Archaeology's Research and Impact Special Interest Group.
Impact and Engagement
A key element of my work involves extensive work with local community groups to help them understand their heritage. This has involved the major involvement of local groups and individuals in our excavations at Binchester, which has been supported by funding from the AHRC, English Heritage and Durham County Council. This involvement continues all year round with volunteers working with us extensively in our post-excavation programme, and even attending master classes in environmental archaeology.
In 2012 I led a team that won £14k from the AHRC for a project which provides training in heritage skills to the general public. This has also allowed us to offer bespoke support and advice to a range of local history and archaeology groups, including supporting them in grant applications and providing training in a range of archaeological skills.
I also have a close interest in heritage management, growing out of my experience working in local government and my current role in developing a research framework for the Durham World Heritage Site. This has seen my involvement with a number of heritage projects developed with local government and English Heritage in the region, including the North-East and Hadrian's Wall Research Frameworks and the Durham Archaeology Assessment. I am currently leading a new project to revise and develop the NE Regional Research Framework.
My interest in developing impact and engagement has been recognised through by award of a Beacon North-East fellowship in Community Engagement in 2008, an invitation to sit on the Community Participation committee of the HLF-funded Lindisfarne Peregrini Project and my role as Chairman of the Chartered Institute For Archaeologists Research and Impact Special Interest Group.
I have also carried out some media work engaging with the region's heritage, including a number of broadcasts on Radio 3's Nightwaves programme and speaking at the Festival of Freethinking held at the Sage in Gateshead.
Research Projects
Lindisfarne: Holy Island Archaeology Project
Landscapes of the Great Depression in NE England (Leverhulme)
Yeavering Anglo-Saxon Palace (Gefrin Trust)
Mapping Early Christianity in Western Normandy
Roman Binchester Research Project
Durham Medieval Archaeologists
Research interests
early medieval Britain, particularly northern England and Scotland
early medieval Brittany, Normandy and the wider Atlantic world
early medieval Christianity
early medieval to contemporary maritime cultural landscapes
post-medieval religion, ritual and belief
20th century archaeology
Esteem Indicators
2014: Chairman, Research and Impact Special Interest Group, Chartered Institute for Archaeology:
2006: Frend Prize for Early Christian Studies: Awarded to young scholars for distinction in Early Christian studies by the Society of Antiquaries of London
2006: Member, Archaeological Advisory Committee: Clwyd Powys Archaeological Trust 2006-2007