Annual Research Theme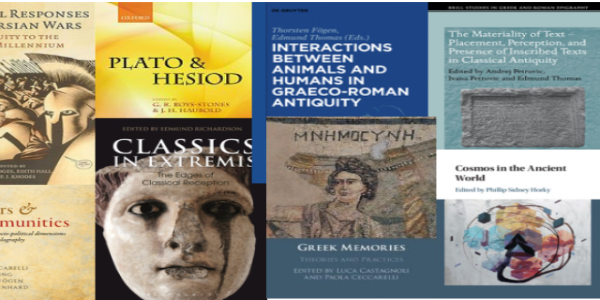 The Department's Annual Research Theme encourages the exploration of innovative subjects emerging at the intersection of two or more members of research staff working in relatively diverse areas, and aims to be an engine for creating new agendas through fresh subdisciplinary collaborations. We normally reserve a number of slots from the Department's Research Seminar for the theme, and provide funding for a dedicated international conference. The Research Theme is ultimately directed towards publication, often in association with postdoctoral researchers, visitors and graduate students. A series of edited collections has appeared with OUP, CUP, de Gruyter and Brill.
Annual Research Theme 2023/24
Details coming soon
Selected previous Research Themes
Portrayals of 'Intellectuals' in the Ancient World (2021/22)
Download the programme here Portrayals of Intellectuals programme
This seminar series dealt with aspects such as the construction of authority, (self-)presentation, forms of knowledge, the social and ethical implications of learnedness, and the constitution of networks. The following questions were be addressed: What constitutes an "intellectual" in antiquity? To what extent can ancient intellectuals be understood as public figures? How much of their knowledge do they share with others and for what purposes? How much do they directly or indirectly contribute to the functioning of society? Were some of them classified as 'champions', 'pioneers', 'heroes', 'legends' or 'dissidents' (to use some of the terms applied by Misztal 2007)? What about criticism and mockery of intellectuals, especially in genres such as comedy, satire and epigram (e.g. Socrates in Aristophanes' Clouds)? In what way is their status mirrored by linguistic and stylistic characteristics (e.g. the use of languages for special purposes) and rhetorical elements? How are patronage and the existence of schools of thought related to intellectual figures, and how much scholarly independence can ancient thinkers claim for themselves? What about the geographical dimension, i.e. the occurrence of intellectuals in certain spaces or regions? What kind of impact did ancient figures of intellectuals have on later periods?

Contact Thorsten Fögen: thorsten.foegen@durham.ac.uk or Phillip Horky: phillip.horky@durham.ac.uk for more information


Research and Work-in-Progress Seminars
The department holds a seminar each Wednesday during termtime. The seminars are held in hybrid format or via Zoom.
For the current seminar schedule and details of how to join in person or online, please visit our seminars page.
You can download a list of previous events via this link Department of Classics and Ancient History University of Durham Research Seminar Full Programme 2020-2021