Studying with us as an international student
The Department of Classics and Ancient History welcomes students from overseas, who will find themselves part of a truly international community. Among our 30 academic members of staff, 9 different nationalities are represented, with colleagues from Australia, New Zealand, Germany, Italy, Greece, the Netherlands, Northern Ireland, USA, and the UK. In addition, many of our staff members have themselves either studied or taught in more than one country.
In the last couple of years, we have welcomed students from Canada, Chile, China, France, Germany, Greece, the Netherlands, Italy, South Korea, and Spain. We also regularly see some of our students opt to broaden their experience of a Durham degree with an extra year of study abroad.
The Durham University International site has information on coming to study at Durham as an international undergraduate or postgraduate student, including guidance on applications, fees, visas, and much more. You can also chat with a current international student or one of Durham's International Officers if you have any questions.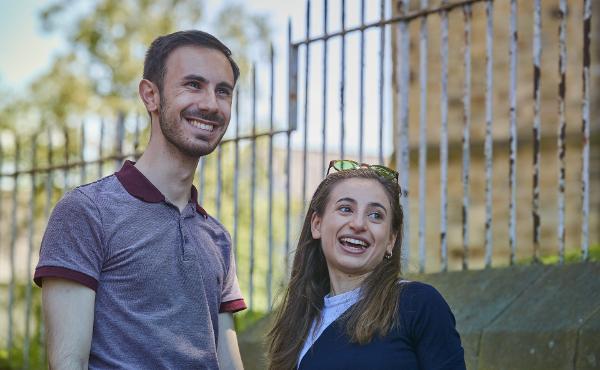 Exchange students
The department of Classics and Ancient History at Durham welcomes applications of international students for the Exchanges Programme from institutional partners across European and non-European institutions. Students who are not currently at one of our institutional partners can still apply for the programme as a fee-paying student and will be required to agree modules and provide evidence of language proficiency with the International Office and department at Durham in advance of their arrival.
For more information on exchange programmes and the application process visit Information for incoming exchange students.
The Exchanges Programme allows students to spend an academic year abroad at Durham and sample the variety of Classics and Ancient History modules available to our students. Students will have the option to take modules across the range of first-, second-, and third-year options including the opportunity to begin or continue studying an ancient language (in some cases you will need to meet certain prerequisites which can be discussed with the Exchanges Coordinator in the department before submitting your application).
The department regularly has both European and non-European exchange students undertaking a year abroad at Durham, with students consistently praising the choice of modules available, the learning environment, and the welcoming atmosphere of the students and the staff members. It is a fantastic opportunity to broaden your perspective on the ancient world as well as studying in a new culture and context. For more information, please contact the International Office, or the departmental Exchanges Coordinator (via the administrative team).
Our former international students say:
"The years I spent in Durham were the most formative of my life. For me, the Classics Department has been a wonderful place to grow academically and familiarise myself with scholarly research, while also enjoying my time in Durham and fostering lasting friendships. Their research-led approach to teaching, as well as the wide range of extracurricular activities they offer, allowed me to discover and truly appreciate the multi-faceted beauty of Classics, and inspired me to pursue an academic career." - Elena, BA and MA Classics
"From the view of an international student, the community of Durham Classicists is always warm, caring and truly welcoming. I acquired much help and encouragement from the department when I was moulding my degree, to whom I am always grateful. The tutors and staffs in the department were truly patient and passionate when I was in difficulties caused by COVID-19 circumstances. I have also known many fellows having the same interests as mine in the department, from whom I learned a lot and from whom I acquired a treasure of friendship... In all, I am proud of myself and always feel honoured as a part of the department." - Yanda, BA and MA Classics
"The Durham Department of Classics gave me the opportunity to be involved in an extremely welcoming, highly stimulating, and warmly supportive environment from which I greatly benefited both in terms of academic formation and social wellbeing. As a result, I wholeheartedly recommend it as a university choice!" - Alessio, Erasmus exchange student
"I am so grateful for my time at Durham – one year was not enough. The department provides such a stimulating and welcoming environment for intellectual exploration. I loved my classes, the Homer reading group, guest lectures, and, most of all, the mentorship I got from my advisor. Finishing my dissertation during the first pandemic summer was my guiding light, and it confirmed my desire to continue a pursuit of an academic career. Durham is truly a gem, and I hope to one day return and walk the beautiful river trails once more." - Luby, MA Classics