Taught Masters in Composition
Composition at Durham
Durham has been a leading centre for Composition and new music research in the UK for the past half-century. Our five staff are internationally pre-eminent in their fields, which cover innovative acoustic composition (orchestral, chamber and vocal); electroacoustic, live electronic and computer music; and contemporary music performance (two of our staff currently direct the world-renowned new music ensembles EXAUDI and Ives Ensemble). All our staff are busy working composers, their music commissioned, performed and recorded worldwide. Composition and new music performance flourish at Durham: studying here you will find a dynamic community of like-minded staff and students, both within and outside the department.
What will you do?
Get to know your discipline, and why it matters
Within the Composition pathway, you'll work closely with our internationally renowned staff in group seminars and individual tutorials, exploring influential current directions in new music including recent innovations in performance practice, notation, microtonality, interdisciplinarity, algorithmic composition and much else. You'll also gain an understanding of the new music scene outside academia, and guidance on your next steps in it. For full details on the course structure, see here.
Explore your interests in more detail – and hear your work performed
You'll create two portfolios of work across the year: one a series of short pieces exploring particular techniques and topics, the other a series of more substantial works entirely of your own choice. We believe strongly that you should hear as much of the music you create as possible. Electronic composers have access to a set of surround sound capable studios, with the chance to work both with vintage equipment and the latest digital tech. For acoustic composers the year is structured around a series of workshops with leading professional musicians, including at least one concert performance. We bring some of the world's leading new music performers to Durham: as well as our 'house' bands EXAUDI (UK) and Ives Ensemble (NL), in the last few years we have worked with Explore Ensemble (UK), Loadbang (US), Roche/Zöllner (UK/Ger), Alpaca (NO), Ben Smith (UK) and Liam Byrne (US/Ger) among many others.
Be part of the new music community
When you join Durham, you become part of our academic research community, working closely with the other composers in your pathway as well as your supervisors. Feel free to contact individual staff members whose specialisms relate to your interests: take a look here . The new music community extends beyond the MA course, too: we have a regular Composition Reading Group alongside the curricular seminars; lectures from guest composers often feature in the department's main Research Forum; and the department hosts two concert series, MUSICON and Klang, both of which regularly promote new music: you can find out more about this community here. Further afield, the University has its own student-led new music ensemble, and there is a dynamic and diverse new music scene both in Durham and in nearby Newcastle-Gateshead.
What do our students think?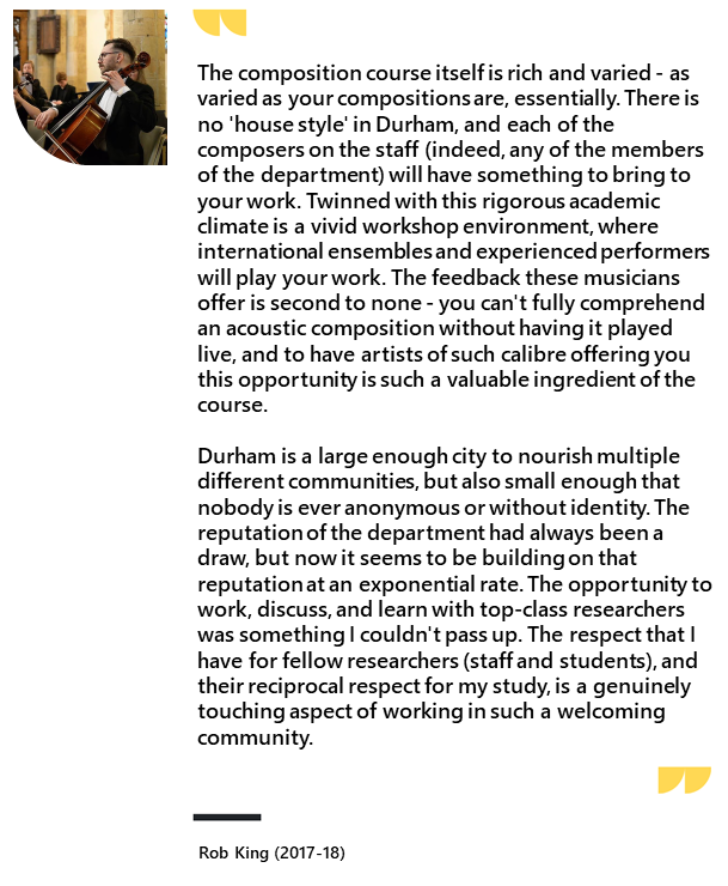 For more details on course structure, how to apply etc, see here.