Biosciences partnership awarded £1million in Ofwat innovation competition for eco-friendly Root Defender project
19 May 2023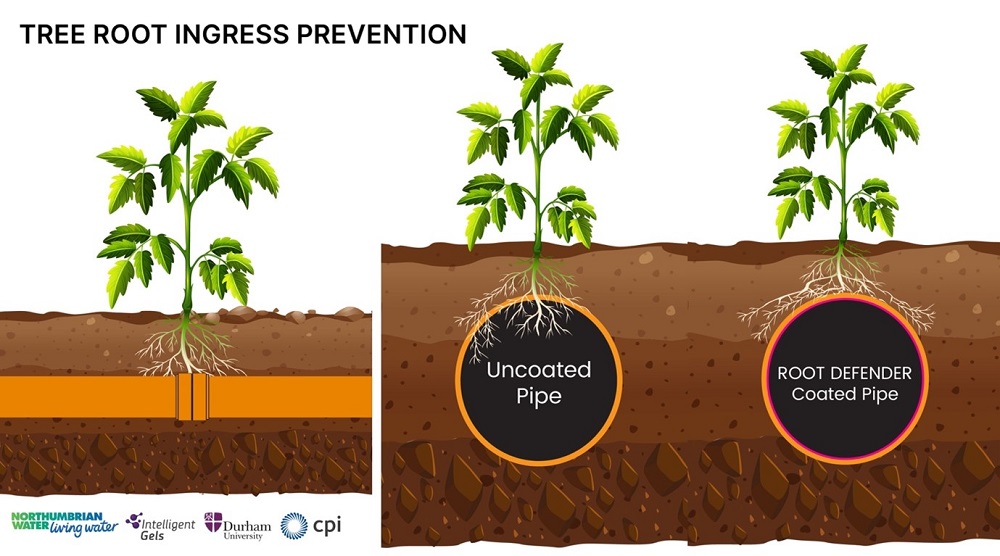 Researchers at the Department of Biosciences have been awarded a major grant from Ofwat in partnership with environmental gel innovator Intelligent Gels, Northumbrian Water and technology innovation catalyst CPI. This is one of 16 initiatives being awarded a share of £40 million in Ofwat's latest innovation competition – the Water Breakthrough Challenge.
Now in its third year, the Water Breakthrough Challenge awards funding to solutions with potential to deliver wide-scale, transformational change benefitting customers, society and the environment.

The innovative Root Defender project, based on research led by Prof. Keith Lindsey and PhD student Cian Rynne in the Department of Biosciences, has been awarded £1.1 million with the aim of ending sewer misery by preventing tree root intrusion into pipelines. Tree roots, which work their way into sewer pipes, block thousands of pipes every year which causes flooding and pollution and costs tens of thousands of pounds to repair.
The project is in association with Intelligent Gels and CPI, who are creating a new eco-friendly product that can be applied to the inside of existing sewer pipes, and coated on new pipes laid in the future, to stop tree roots growing any further without damaging roots and killing the tree.
This new funding will allow further product development and industrial scale testing before commercialisation.
Professor Keith Lindsey from the Department of Biosciences at Durham University and academic lead for the project, said: "Our researchers have been working with Intelligent Gels on this project for several years and it's fantastic to get this level of support to take the project forward. This has the potential to be a game-changing solution to a multi-million pound problem for the water industry and will be of huge benefit to the general public".
Matt Wilson, Managing Director of Intelligent Gels said:
"We have scientifically proven that we can repel tree roots from pipelines, with nature-based materials and most importantly it won't affect tree growth. This innovation will allow us to test new ways of conducting the core activities of the future plus aid long term resilience of the network."
The Water Breakthrough Challenge is part of a series of competitions from Ofwat, run by Challenge Works with Arup and Isle Utilities, designed to drive innovation and collaboration in the sector to benefit individuals, society and the environment.
Previous rounds of the competition have already seen numerous innovative projects win funding for their potential to benefit customers, society and the environment through solutions that introduce rainwater storage systems to local communities and minimise water demand in new building projects.
More information about the winners of the Water Breakthrough Challenge can be found here: https://waterinnovation.challenges.org/winners/
Further Information:
Find out about more about the Department of Biosciences
Visit Professor Keith Lindsey's staff page at Durham University.
Find out more about Orbit Durham University Enterprise Zone
Find out more about Intelligent Gels