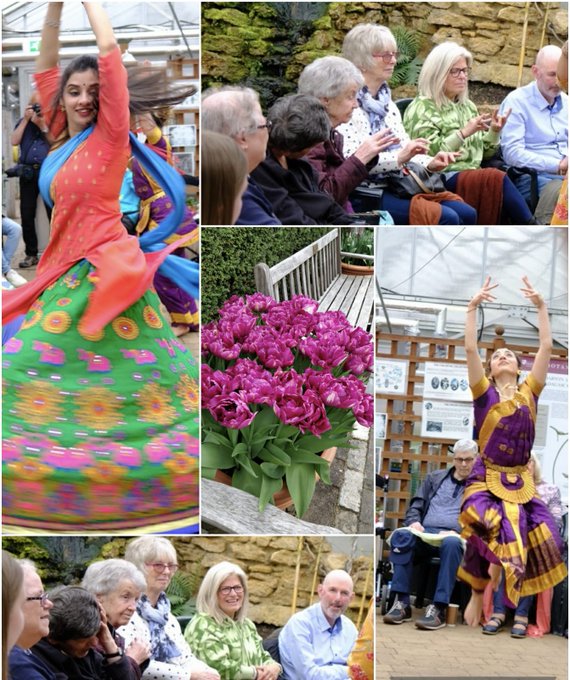 In celebration of World Parkinson's Day 2023, the Durham Parkinson's UK Branch, Durham University, Space 2, and Balbir Singh Dance Company collaborated for an afternoon exploring the classical Indian dance of kathak at Durham University Botanic Gardens. This builds on the previous work of the 'Unmasking Pain' project with Balbir Singh Dance company backed by Arts Council England, offering similar days for people living with chronic pain.
The afternoon in the Botanical Gardens was attended by 28 local people with Parkinson's and their loved ones and carers, supported by student volunteers from the Durham University UG Parkinson's Pals scheme, who work regularly with the group. Following a wonderful picnic supplied by The Picnic Basket Durham, which included traditional food such as bhajis, samosas and baklava, participants were invited on a journey of kathak dance. Each dance told a distinct story, and participants were able to join in and move to the music with traditional scarves. Furthermore, participants were highly engaged in singing exercises accompanied by rhythmic clapping of their names.
At the end of the afternoon, the Durham Parkinson's UK Branch was presented with £428 raised by the Durham University Biology Society. This, along with the £216.86 raised by the Durham University Parkinson's Pals scheme, will go towards funding the monthly support sessions the group holds at Newton Hall.
Feedback from participants was extremely positive, with comments of an "excellent, well organised" afternoon, full of "nice surprises" and "highly entertaining". Importantly, both people with Parkinson's and their caregivers commented how beneficial it was to share their experiences.
Authors: Lottie Keyse & Finn Lawton, Biosciences UGs & Parkinsons Pals Leaders)
Further Information:
Find out about the Department of Biosciences and the Wolfson Research Institute for Health and Wellbeing at Durham University
Visit Dr Paul Chazot's staff page at Durham University.