Research Projects
This section includes short descriptions of projects by History Department staff that approach decolonisation in their own fields of research
Black Radicalism and the British Socialist Movement before Decolonisation
Dr Theo Williams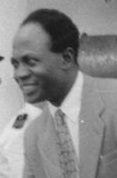 My most recent project examined Black radical politics in Britain. It focused on a group of London-based socialists from Africa and the Caribbean, including Amy Ashwood Garvey, C.L.R. James, Jomo Kenyatta, Kwame Nkrumah and George Padmore, during the 1930s and 1940s. Through forming alliances with white socialists, these activists transformed the ideas and activism of the wider British Left. The centrality of these activists to the history of twentieth-century Black radical politics has long been acknowledged. My project, by also demonstrating these activists' centrality to the British socialist movement, therefore reconfigures our understanding of both left-wing politics in Britain and transnational Black radicalism. I have published articles based on this research in two major journals, Modern Intellectual History and Twentieth Century British History. My monograph, Making the Revolution Global: Black Radicalism and the British Socialist Movement before Decolonisation is forthcoming with Verso.
Publications:
'George Padmore and the Soviet Model of the British Commonwealth',

Modern Intellectual History

'Collective Security or Colonial Revolution? The 1938 Conference on Peace and Empire, Anticolonialism and the Popular Front',

Twentieth Century British History
Anticolonialism in Postwar Britain
Dr Theo Williams
My new project examines anticolonialism in postwar Britain. This project will reorientate debates about the long history of metropolitan opposition to empire, how political movements in the colonies informed ideas about freedom in Britain, and how postwar migration reshaped British political culture.