Aesthetics, Ethics and Politics
Our Aesthetics, Ethics and Politics research cluster brings philosophers working on art and beauty together with those interested in morality and in politics and provides an exciting opportunity for re-evaluating value. Aesthetics, ethics, and politics are areas in which value concepts play a constitutive role. In all these areas we are concerned with what is good, beautiful, worthwhile, right, and fitting. Whenever we talk in value-terms, there are philosophical questions to be answered, about the relation between the normative and the descriptive, and so there are many opportunities for us to learn from each other's work.
Below are a selection of publications from our academic staff in the Aesthetics, Ethics and Politics Research Cluster: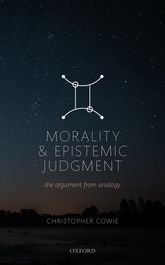 by Dr Christopher Cowie
ISBN: 9780198842736
2019, Oxford University Press, 256pp
Moral judgments attempt to describe a reality that does not exist, so they are all false. This is the moral error theory, a deeply troubling yet plausible view that is now one of the canonical positions in moral philosophy. The most compelling argument against it is the argument from analogy. According to this, the moral error theory should be rejected because it would seriously compromise our practice of making epistemic judgments-judgments about how we ought to form and revise our beliefs in light of our evidence-and could undermine systematic thought and reason themselves. Christopher Cowie provides a novel assessment of the recent attention paid to this topic in moral philosophy and epistemology. He reasons that the argument from analogy fails because moral judgments are unlike judgments about how we ought to form and revise our beliefs in light of our evidence. On that basis, a moral error theory does not compromise the practice of making epistemic judgments. The moral error theory may be true after all, Cowie concludes, and if it is then we will simply have to live with its concerning consequences.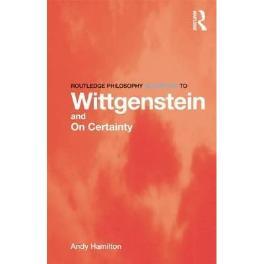 by Professor Andy Hamilton
ISBN: 9780415450768
2014, Routledge Press, 360pp
Ludwig Wittgenstein is arguably the most important philosopher of the twentieth century. In On Certainty he discusses central issues in epistemology, including the nature of knowledge and scepticism. The Routledge Philosophy Guidebook to Wittgenstein and On Certainty introduces and assesses:
Wittgenstein's career and the background to his later philosophy
the central ideas and text of

On Certainty, including its responses to G.E. Moore and discussion of fundamental issues in the theory of knowledge
Wittgenstein's continuing importance in contemporary philosophy.
This GuideBook is essential reading for all students of Wittgenstein, and for those studying epistemology and philosophy of language. On Certainty, Wittgenstein's final work, addresses a category of "world-picture" propositions discovered by G.E. Moore. These challenge Wittgenstein's enduring commitment to a well-defined category of empirical propositions, and help to generate a critique of scepticism. Developing Wittgenstein's view that scepticism is self-undermining, the Guidebook offers a combative yet therapeutic interpretation that locates On Certainty between the standpoints of Kant and Hume.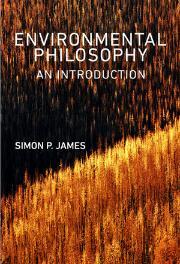 by Dr Simon James
2015, Polity Press, 240pp
ISBN: 9780745645469
Climate change, habitat loss, rising extinction rates - such problems call for more than just new policies and practices. They raise fundamental questions about the world and our place in it. What, for instance, is the natural world? Do we humans belong to it? Which parts of it are we morally obliged to protect?
Drawing on an exceptionally wide range of sources, from virtue ethics to Buddhism, leading environmental philosopher Simon P. James sets out to answer these vitally important questions.
The book begins with a discussion of animal minds, before moving on to explore our moral relations with non-human organisms, ecosystems and the earth as a whole. James then considers environmental aesthetics, humanity's place in the natural world and the question of what it means to be wild. In the concluding chapter, he applies his findings to the topic of global climate change, building a strong moral case for urgent action.
This accessible, entertainingly written book will be essential reading for students of the environment across the humanities and social sciences. It will, moreover, be an ideal guide for anyone keen to deepen their understanding of environmental issues.
Staff Research Interests
Research Group Staff
Research Interests
Dr Chris Cowie

Moral Philosophy
Population Ethics
Epistemology
Space Exploration

Professor Matthew Eddy

History and Philosophy of:
Science & Technology
Climate & the Environment
Race & Politics
Gender & Sexuality
Science & Religion

Dr David Faraci

Metaethics
Epistemology
Applied Ethics (esp. Business Ethics)
Moral Responsibility


Professor Andy Hamilton

Aesthetics
Wittgenstein
History of 19th and 20th century philosophy
Political Philosophy especially liberalism and conservatism
Philosophy of mind especially self-consciousness

Dr Simon James

Environmental philosophy
Existential phenomenology
Buddhist philosophy

Professor Geoffrey Scarre

Moral responsibility
Utilitarianism
Death
Forgiveness
Evil
John Stuart Mill
Ethics of Archaeology

Dr Benedict Smith

Moral Philosophy
Philosophy of Mind
Phenomenology
Wittgenstein
Philosophy of Medicine

Dr Richard Stopford

Aesthetics
Adorno
Critical Theory
Post-Kantian Philosophy
Contemporary Metaphysics