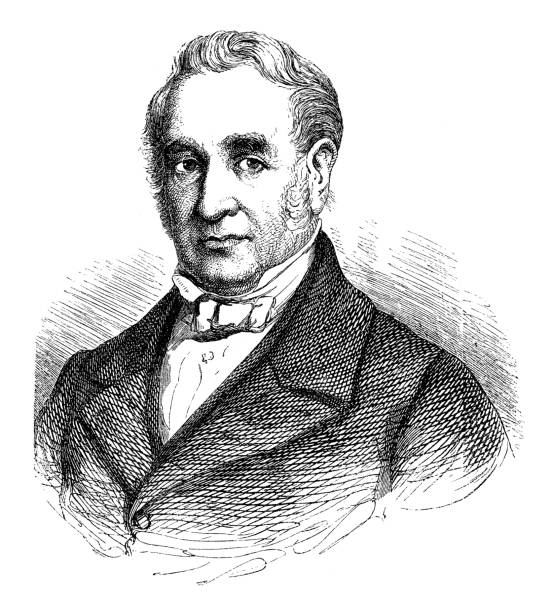 George Stephenson
George Stephenson was born at Wylam near Newcastle-upon-Tyne, on 9th June 1781. At the age of 14 he joined his father (a colliery fireman) to work at a local colliery. He was illiterate but ambitious and, at 18, began evening classes where he learnt to read and write.
In 1802 he was married and became a colliery engineman. The following year Robert, his only son, was born. His wife suffered poor health and she died of consumption in 1806.
In 1808 he became an engineman at Killingworth Colliery. Within four years he had become the colliery's enginewright and, in 1814, he completed the construction of his steam-powered engine, the Blutcher, capable of pulling thirty tons up a hill at 4 mph. Engine design was not his only claim to fame and, in 1815, he developed a miners' safety lamp (independently of Humphry Davy).
In 1823 the Robert Stephenson & Company of Newcastle-upon-Tyne became the world's first locomotive builder. The first railway locomotive was, aptly, christened "Locomotion". The Stockton & Darlington line opened on 27th September, 1825 and large crowds saw Stephenson at the controls of Locomotion as it pulled 36 wagons filled with sacks of coal and flour. The journey, of just under 9 miles, took two hours and during the final descent into Stockton, speeds of 15 mph (24kph) were reached.
Stephenson died on 12th August 1848 at his home and is buried in Trinity Church, Chesterfield. His name will always be associated with the creation of the railway system. By force of personality, and as a tireless and enthusiastic promoter of the concept of the railway, he achieved undeniable greatness and is seen as a true pioneer.
Our Motto
In a letter to one of his contemporaries, Stephenson wrote 'one day I shall astonish the world'. He did indeed astonish the world through his many achievements, principally via his pioneering work on the Locomotion and rail travel which transformed the world. His words, translated into Latin, have been adopted as the College motto: 'me quondam mirabitur orbis'. We hope that each of our students will, at some time and in their own way, astonish the world.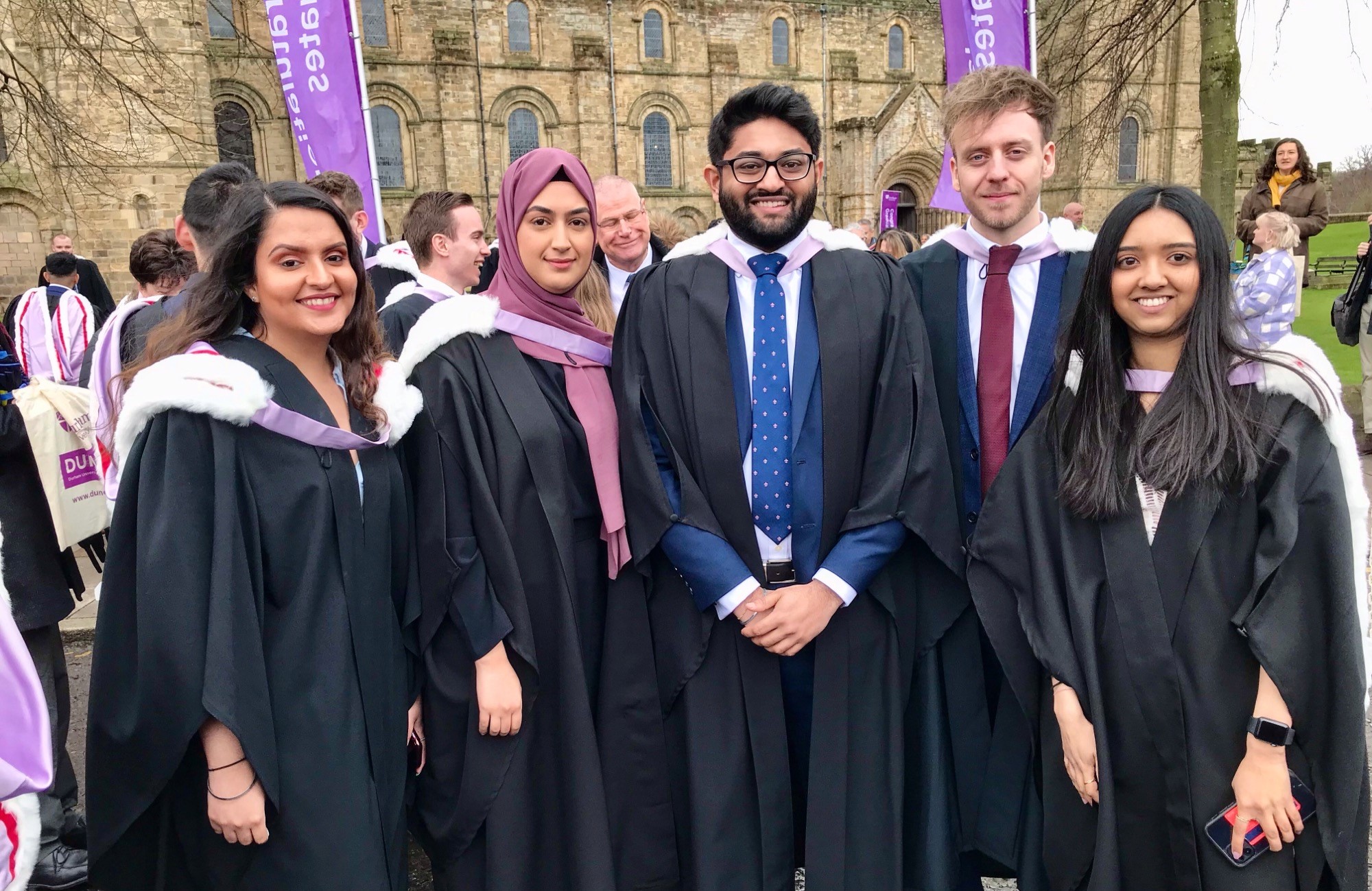 Our History So Far
1832: SHAPED BY THE PAST
Durham was one of the first universities to establish medical training (1834), to admit women on an equal footing to men (1890), and the first to award Civil and Mining Engineering degrees to meet regional and national needs during the industrial revolution (1838).
Durham led in the development of science and established one of the earliest observatories in England.
1992: CAMPUS OPENS
In 1992 the Stockton-on-Tees campus welcomes its first 190 students as part of the University's major contribution to the regeneration of the Tees Valley.
1993: ROYAL VISIT
University College, Stockton is officially opened by HRH Elizabeth II in 1993 and in 1995 the first students graduate in a ceremony at Stockton Parish Church. University College was the only Durham college with teaching responsibilities.
1994: FIRST RESIDENCES
The Earl of Stockton opens the first student residences – home to 234 first year students.
1998: EBSWORTH BUILDING AND NEW RESIDENCES
The £15 million extension of facilities is officially opened by the Chancellor of the University, Sir Peter Ustinov. The doubling of facilities includes a new academic building (the Ebsworth Building) and new residential accommodation for students.
2001: TWO NEW COLLEGES
In line with the University's collegiate tradition, two new colleges - John Snow and Stephenson - are created, which provide communities for all our students. This coincides with the opening of the purpose-built Wolfson Research Institute to house world leading multi-disciplinary research.
2002: TEN YEAR CELEBRATIONS
2002-03 marks the tenth anniversary of the campus. The University of Durham Stockton Campus, which was opened by HRH Elizabeth II in 1993, is awarded the title "Queen's Campus" in the Queen's Golden Jubilee year. The Duke of Edinburgh announces the distinction on 8 May 2002, during a visit to the Campus at the end of a two-day royal tour of the North East.
2010: NEW SPORTS CENTRE
A multi-million-pound, state-of-the-art Sports Centre opens along with a purpose-built Boat House to accommodate John Snow & Stephenson Colleges' Boat Clubs at Queen's Campus. It is also the year that new social and study facilities are opened in both colleges.
2011: NEW FACILITIES
Significant investment is made in developing the central campus library, the Careers, Employability and Enterprise Centre, Café Aroma, and a dedicated postgraduate study area.
2012: CREATING THE FUTURE
This year sees a major extension to the Wolfson Building to deliver a state-of-the-art NHS Primary Care training facility and provision for Durham Business School for research and postgraduate study.
2013: NEW PHARMACY DEGREE
Introduction of new Pharmacy undergraduate course (MPharm) that will eventually bring another 450 students to Queen's Campus.
2017: NEW BEGINNINGS
Stephenson College, along with John Snow College, move to the city of Durham on a phased basis. Stephenson College is housed in Hilton Cottage for the first year.
2018: THE NEXT CHAPTER
Stephenson College relocates to the former home of Ustinov College at Howlands Farm, Durham City.
2021: TWENTY YEAR CELEBRATIONS
Stephenson College celebrates its twentieth anniversary!