Who's Who
Professor Rob Lynes CMG - Principal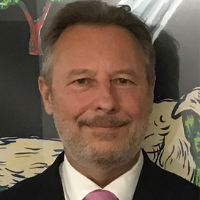 +44 (0) 191 334 0041 robert.c.lynes@durham.ac.uk
As College Principal, Professor Rob Lynes has overall responsibility for all College matters. He is responsible for the direction, leadership, and development of the College. He represents the College at the Divisional Board and is also a member of Senate.
Professor Lynes joined Durham University in 2019 following a career working predominantly in the field of international relations, starting as a linguist in Berlin during the Cold War years of the 1980s. A true global leader, Professor Lynes spent many years working for the British Council, the UK's leading international cultural relations organisation, promoting cultural relationships and understanding between the people of UK and other countries.
He held several senior roles in Central and Eastern Europe, the Middle East and UK, and from 2011 to 2016 he was Director India where he initiated and launched a major innovative cultural relations programme 'Re-imagine: UK-India Cultural Relations in the 21st Century and secured the 2017 UK – India Year of Culture with UK and Indian governments. In 2016 he was appointed as a Companion of the Most Distinguished Order of St Michael and St George (CMG) for services to strengthening the cultural and educational relations between the UK and other countries.
Professor Lynes also holds the post of Associate Pro-Vice Chancellor Global at Durham University helping to develop the University's international collaborations, through strategic, education and research partnerships, greater mobility for students and engaging closely with our international alumni.
Katie Stobbs, MA - Vice-Principal
+44 (0) 191 334 0042 stephenson.vp@durham.ac.uk
Katie is responsible for leading on the student enrichment provision in College as well as supporting a wide range of student-led activities. Katie grew up in County Durham, read Politics at Newcastle University and then studied for a Master's degree in International Relations at Durham. After graduating in 2011, she worked for the Anne Frank Trust UK, a national anti-racism charity, followed by a five-year stint in the Middle East working on cross-boundary research and development in renewable energy, water conservation, as well as wastewater treatment and reuse and sustainable agricultural innovation. Katie also managed DFID's international youth volunteering programme in the West Bank. Before joining Stephenson College, Katie was Acting Vice-Master at Hatfield College and Assistant Principal at Ustinov College. Katie led DU Volunteering and Outreach to achieve the Queen's Award for Voluntary Service in 2020. Katie was awarded the Respect, Fairness and Equity Award at Durham Global Awards in 2023.
Emily Longman – JCR
President
+44 (0) 191 334 9380 stephenson.jcr@durham.ac.uk
Emily is the elected representative of our Junior Common Room (JCR), the community of undergraduate students here at Stephenson College. She manages the JCR Exec and Non-Exec Committees which collectively support and organise social, sporting, welfare and enrichment activities within Stephenson College. Within her role, Emily also assists with the running of our sports and societies and helps with student welfare. Emily lives in College and works from the JCR Office, which is based in Wylam.
Adam Stone – MCR President
Adam is the President of our Middle Common Room which represents our postgraduate and mature student body; he organises a range of events and activities for our MCR community. Adam joined the college in 2018 and is currently studying for a PhD in Bayesian Statistics and Machine Learning within a causal setting alongside his role as MCR President.
College Staff